Snorkelling in Andaman Islands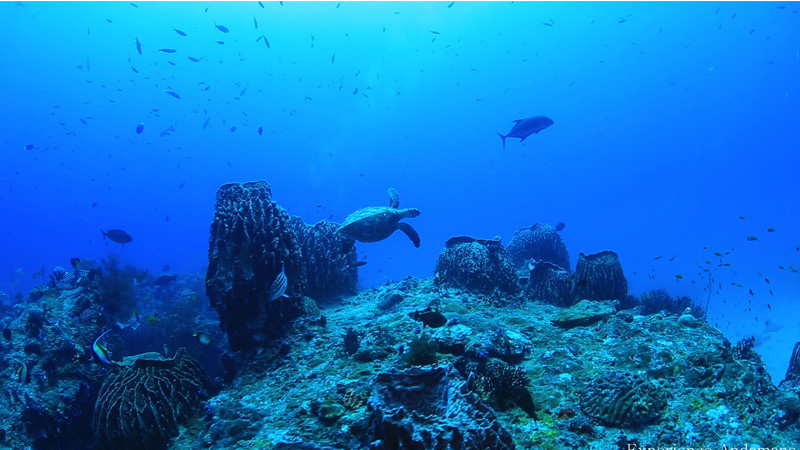 Snorkelling is exciting when you swim on the surface of water with the help of a face mask and a breathing tube called snorkel. If the water is pleasant and not too cold you don't even have to wear a swim suit. Snorkelling with the swim fins on makes you feel like a fish skimming across the water body. The breathing tube allows you to dip your head inside the water and the mask allows you to see and enjoy the beautiful water kingdom that lies hidden under the surface of the liquid blue waters. The whole enjoyment lies in the feeling of swimming merrily slightly underwater. And in places like Andamans where the waters are known for its beautiful and legendary coral reefs, you enjoy all the more.
The underwater world that opens up for you is colourful and varied. The flora and fauna that you visualize around you is not the everyday plants and animals that you see around you. A whole new world unfolds throbbing with the mystic creatures of the sea. Moreover by mixing and mingling with the sea creatures you have a very good chance of leisurely observing the creatures at close distances. Snorkelling can be done by people of all ages. It does not require swimming skills. It is less complicated than scuba diving and can be enjoyed by people even with minor medical problems. Thus it can be readily enjoyed as opposed to scuba diving that requires a bit of initial training.
Snorkelling gives you an excellent opportunity to watch the underwater life in their natural settings. A snorkel comprises a 1-feet long tube that is shaped resembling the English capital letters J or L. The snorkel has a mouth piece at its other end that is fitted to the mouth and is made from rubber or plastic. The main purpose of the snorkel is to allow you to breathe freely without worrying about coming back to surface at regular intervals to breathe. This enables continuous or uninterrupted view of underwater life.
Snorkelling is very popular among the tourists and travellers of Andamans and given the beauty of the coral reef and the variety of underwater fishes and animals spotted in this region, Andamans make for a very attractive snorkelling destination among all travellers far and near. The most popular snorkelling destinations are North Bay Island, Port Blair; Elephant Beach, Havelock Island; Jolly Buoy Island and Red Skin Island, Port Blair; Neil Island; Cinque Island and Rutland Island.
Experience snorkelling at North Bay Island, Port Blair
North Bay Island situated close to Port Blair is a popular island for water sports and activities. Due to its proximity to the capital city of Andamans, North Bay sees a lot of enthusiastic crowd all through the year. Snorkelling along the coast of North Bay Island provides excellent opportunities to observe a wide variety of different kinds of fishes, lobsters, clams, molluscs and very colourful and diverse types of corals. There are expert trainers and coaches to guide you through your snorkelling activity. Usually, there is a huge rush and you have to wait in a queue patiently for your turn.
Snorkelling experience at Elephant Beach, Havelock Island
Elephant beach offers very clear waters and a huge variety of exquisite underwater fishes and very bright and beautiful corals. The undamaged and carefully preserved coral reefs off the coast of Elephant Beach clubbed with the very blue and crystal clear shallow waters offers an amazing snorkelling experience.
Snorkelling experience at Jolly Buoy Island/Red Skin Island, Port Blair
Jolly Buoy and Red Skin Island offers very beautiful coral and underwater marine life watch. Among the most popular attractions that never cease to amaze the snorkelers enough are red corals, blue corals, sponge corals and these looking all the more fascinating with the tiny zebra fish dwelling in them. These two destination islands open for 6 months each for the tourists, alternatively. Jolly Buoy opens from November to April and Red Skin Island from May to October.