Scuba Diving in Andaman Islands
Planning a visit to Andaman? Then scuba diving should unquestionably be on your itinerary. Known as a diver's paradise, Andaman is the ideal destination to embark on your first underwater escapade for an extraordinary, memorable experience. With myriad dive sites to choose from, Andaman caters to both seasoned experts and novice divers, promising an unforgettable underwater experience.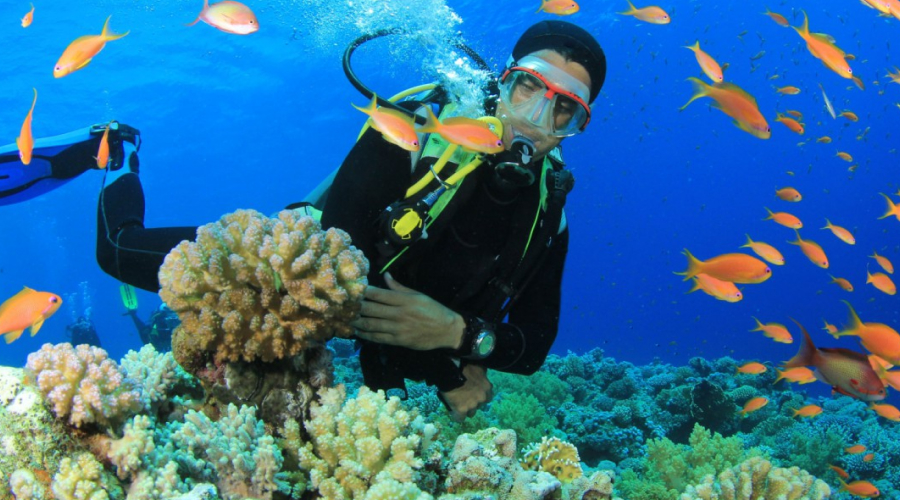 Far from just being an adventure hotspot, Andaman also serves as the perfect launchpad for those yearning to step out of their comfort zones and satiate their adrenaline cravings. Why not explore the underwater with a scuba diving adventure in the Andaman and Nicobar Islands?
In this guide to Scuba Diving in Andaman, we delve into the following:
Factors that influence your scuba diving experience
Types of Scuba Diving in Andaman
Scuba Diving Sites in Andaman
Scuba Diving Sites for Beginners and Non- swimmers
Scuba Diving Price in Andaman
Scuba Diving Course Fee in Andaman
The Do's and Don'ts of Scuba Diving in Andaman
FAQs
Now before you book an Andaman tour package and plan your scuba diving adventure, there are certain factors you should know that could possibly impact your scuba diving. c
Key Factors Influencing Your Scuba Diving Experience in Andaman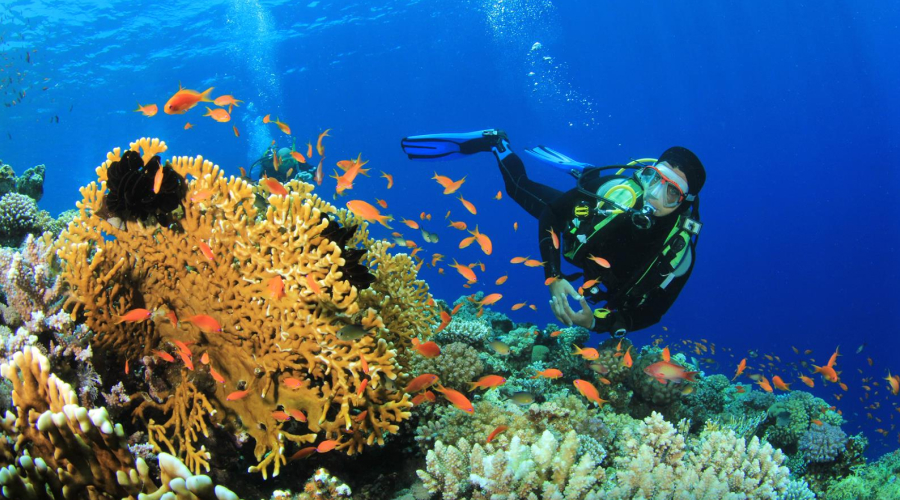 Navigating Underwater Depths: The thrill of scuba diving is undeniably tied to the depth you explore. The deeper you dive, the more fascinating creatures you'll encounter. However, remember that increased depth also necessitates advanced skills, certifications, and meticulous attention to safety.
Crystal Clear Encounters: Clarity of water, often referred to as visibility, plays a significant role in defining your diving experience. Clear water allows you to appreciate the enchanting beauty of Andaman's underwater ecosystem in all its glory. Higher visibility provides you with panoramic views of the vibrant marine life and colourful coral gardens.
The Role of Weather: Weather conditions can greatly impact the safety and enjoyment of your dive. Ideal weather facilitates calm sea conditions and good visibility, making for a splendid dive. Conversely, rough weather can lead to poor visibility and strong water currents, making diving unsafe.
Coral Reefs : The Underwater Rainforest: Andaman is renowned for its abundant coral reefs, which serve as the pulsating heart of its marine ecosystem. The health and diversity of these coral reefs profoundly affect the variety and population of marine life, offering a delightful underwater spectacle for divers.
Abundance of Marine Life: The richness of fish population significantly enhances your scuba diving experience. Andaman, blessed with a myriad of fish species, offers a vibrant spectacle of marine life that adds a touch of magic to every dive.
Navigating Water Currents: Water current is another critical factor that affects your diving experience. Gentle currents can make your dive an effortless glide, whilst strong currents require a higher level of skill and experience to navigate. Understanding and respecting the power of water currents is crucial to ensure a safe and enjoyable dive.
Diverse Options of Scuba Diving in Andaman
Shore Scuba Diving in Andaman: A Gateway for Beginners and Non-Swimmers
Are you a novice in scuba diving or perhaps a non-swimmer? Don't let that hold you back! Even without swimming prowess, you can indulge in an unforgettable underwater adventure. Andaman offers unique shore diving sites in Havelock and North Bay Island, specifically tailored for beginners. Simply heed the expert instructions from your certified dive instructor, and you'll be exploring the vibrant marine life in no time.
Boat Scuba Diving in Andaman: An Exhilarating Dive for Swimmers and Non-swimmers
As the moniker suggests, boat scuba diving propels you into an open water adventure away from the shore. This experience involves a comprehensive briefing on underwater conduct, gear usage, and safety protocols before you take the thrilling backflip plunge into the deep sea. With unique boat dive sites in Havelock and Neil Island, this diving option is open to both swimmers and non-swimmers. While boat diving may come with a higher price tag compared to shore diving, the experience is definitely exhilarating.
Beginner to Professional: Scuba Diving Courses in Andaman
Have you had a taste of scuba diving and are now eager to further explore the depths of the ocean at worldwide locations? Perhaps you're contemplating making scuba diving your career? Either way, enrolling in a scuba diving course in Andaman is an excellent next step. These courses, available at PADI/SSI recognised diving schools, combine theoretical knowledge with practical training to help you become a certified diver. Remember, swimming skills are a prerequisite for these courses.
Advanced Open Water Diving: Deep Dive Training in Andaman
For those willing to delve deeper, Andaman offers advanced courses in deep-sea diving. Upon completion, you'll receive a certification permitting dives up to 30 metres deep. But the learning doesn't stop here. You can further enhance your diving prowess by partaking in an Emergency First Responder course, followed by a PADI Rescue Diver course. The culmination of this journey sees you becoming a certified Divemaster, skilled at assisting new divers in both open water and shore diving scenarios.
Andaman's Best Scuba Diving Destinations
The charm of the Andaman Islands extends far beneath the azure surface of its surrounding seas. Let us explore the diving sites in Andaman, from the bustling capital city of Port Blair to the tranquil expanses of Havelock Island, Neil Island, and North Bay Island, there is an array of spectacular deep-sea diving destinations that beckon exploration.
Scuba Diving in Port Blair
As the bustling hub of the Andaman Islands, Port Blair combines urban amenities with extraordinary natural wonders. A prime spot for deep-sea diving here is Corbyn's Cove beach. This site's ideal conditions, such as the abundant underwater visibility and a vibrant array of corals, make it a paradise for divers. It's a more budget-friendly option, offering a fantastic diving experience without breaking the bank. Other notable Port Blair diving locations include Mahatma Gandhi Marine National Park, Corruption Rock, Rutland Island, and Snake Island, each offering unique underwater landscapes and marine life.
Scuba Diving in Havelock Island
Havelock Island is a diving utopia in Andaman. Among its many alluring diving sites, Nemo Reef stands out for its easy accessibility and unparalleled underwater biodiversity. The clear waters, combined with gentle currents, make for a comfortable, enchanting dive. The presence of several PADI-certified diving schools further enhances its appeal, offering divers of all budgets the opportunity to explore underwater wonders. You can also explore other diverse dive sites such as Barracuda City, Seduction Point, Lighthouse, Turtle Bay, Mac Point, and Minerva Bridge.
Scuba Diving in Neil Island
Renowned for its beauty and opulent resorts, Neil Island also lays claim to fantastic deep-sea diving locations. Although the water clarity might not match that of Nemo Reef, it is nonetheless conducive to a splendid diving experience. However, as diving operations are fewer here, the cost might be slightly higher, making it a perfect spot for those looking for a premium, less crowded diving experience. Dive spots such as Busy Burro, Rocky's Margarita, Junction, and Robin's Bay each offer their unique underwater landscapes.
Scuba Diving in North Bay Island
Situated in close proximity to Ross Island, North Bay Island is a diver's haven. With its crystal-clear underwater visibility and diverse marine population, it promises a rewarding deep-sea diving experience. Given the island's dedication to diving and lesser focus on other tourist activities, it's the perfect choice for those wanting a pure diving expedition.
These destinations' suitability for deep-sea diving lies in their unique underwater topography, clear waters, diverse marine life, and well-regulated diving operations. Each location offers its unique flavour of adventure, ensuring that every dive is an unforgettable voyage into Andaman's undersea world.
Ideal Scuba Diving Sites in Andaman for Beginners and Non-Swimmers:
There are several dive sites across the Andaman Islands perfectly suited for beginners and non-swimmers. They offer a gentle introduction to the world of scuba diving with their clear waters and vibrant, accessible marine life:
North Bay, Port Blair: As a sheltered beach close to the city, North Bay provides an ideal starting point for new divers.
Nemo Reef, Havelock Island: Known for its calm waters and plentiful Nemo sightings, this site is a favourite among beginners.
Tribe Gate, Havelock Island: With its shallow depths and rich marine biodiversity, Tribe Gate offers a safe and exciting dive experience.
Juvis, Havelock Island: This dive site provides an accessible underwater terrain for beginners, with an added thrill of possible turtle sightings.
Jetty Channel Marker, Neil Island: Offering calm conditions and a chance to spot a variety of fish species, this site is perfect for non-swimmers starting their scuba journey.
Scuba Diving Price in Andaman
Now that we've unpacked the different types of scuba diving and the variety of stunning diving sites in Andaman, let's talk numbers. How much is this underwater escapade going to set you back? Well, check out the table below for the lowdown on the costs in the Andaman Islands. Have a good read, think about what suits your style and diving level, and pick your perfect underwater adventure. Whether you're a beginner or a certified diver, there's something for everyone. So, are you ready to make a splash?
| | | | | | |
| --- | --- | --- | --- | --- | --- |
| Place | Dive Site | Dive Type | Time Duration | Depth (in metres) | Cost of Diving |
| Havelock Island | Nemo Reef | Shore Dive | 1 hour | Up to 12 m | ₹ 3,500/- |
| North Bay Island | The Beach | Shore Dive | 45 min – 1 hour | Up to 12 m | ₹ 3,500/- |
| Port Bair | Corbyn's Cove | Boat Dive | 45 minutes | Up to 18 m | ₹ 4,000/- |
| Havelock Island | Dongi Dive | Boat Dive | 45 min – 1 hour | Up to 18 m | ₹ 6,000/- |
| Neil Island | Laxmanpur Beach | Boat Dive | 45 minutes | Up to 18 m | ₹ 3,500/- |
| Port Blair | MG Marine Park | Shore Dive | 1 hour | Up to 12 m | ₹ 4000/- |
| Neil Island | Junction | Shore Dive | 1 hour | Up to 12 m | ₹ 4000/- |
| Barren Island | Near Island | Boat Dive | 1 hour | Up to 18-20 m | ₹22,000/- |
* Prices may be subject to change
Scuba Diving Course Fee
If you're seeking more than just a fleeting thrill and aspire to become a certified diver, Andaman presents a diverse range of certification and licence offered by accredited schools. The prominent institutions in Andaman that provide comprehensive diving certification are PADI (Professional Association of Diving Instructors) and SSI (Scuba Schools International). Here's an overview of the distinct scuba diving courses available in Andaman, along with their respective fees:
| | | | |
| --- | --- | --- | --- |
| DIVE TYPE | NO. OF DIVES | NO.OF DAYS | COURSE FEE |
| PADI Scuba Diver Course (Up to 12 m) | 2 | 1-2 | ₹16,500/- |
| PADI Open Water Course (Up to 18 m) | 4 | 4 | ₹25,400/- |
| PADI Advanced Open Water Course (Up to 30 m) | 5 | 3 | ₹20,200/- |
| Emergency First Responder Rescue Course (CPR/First Aid) (Non-Dive) | 0 | 1 | ₹8,675/- |
| PADI Rescue Diver | 2 | 3 | ₹19356/- |
| Combo – PADI Rescue Diver & EFR | 2 | 3 | ₹26746/- |
| SSI Advanced Adventurer (AA) – Up to 30m | 2-4 | 2-3 | ₹20,450/- |
| SSI (OW) Up to 18 m | 3-6 | 3-4 | ₹23,450/- |
The Do's and Don'ts of Scuba Diving in Andaman
Immersing oneself in the underwater world of the Andaman Islands is an exhilarating experience. However, to ensure a safe and rewarding dive, it's vital to follow some fundamental scuba diving principles.
Do's:
Dive in Groups: If you're a beginner or non-swimmer, always ensure you dive with a group under the guidance of a certified dive instructor.
Maintain Visual Contact: Keep your diving companions within your sight at all times. It ensures safety and easier communication underwater.
Prioritise Health: Being physically fit and mentally alert is essential for a successful dive.
Continuous Breathing: Unlike instinctive behaviour on land, underwater it's crucial to breathe continuously to avoid lung overexpansion injuries.
Make a Safety Stop: Always make a safety stop at the end of your dive to avoid decompression sickness.
Stay Hydrated: Ensure you're well-hydrated before the dive, but do so before your pre-dive meal to prevent any discomfort.
Don'ts:
No Alcohol: Diving under the influence of alcohol is dangerous. Always dive sober.
Heed Instructor's Advice: Pay attention to your dive instructor's briefings and instructions. Their expertise ensures a safe dive.
Use Quality Equipment: Never compromise on the quality of your diving gear. Using substandard equipment increases risk.
Avoid Solo Dives: Particularly for novices, diving alone can be hazardous. Always dive with a buddy or a group.
Don't Hold Your Breath: Holding your breath underwater can lead to serious injuries. Breathe continuously and naturally.
Frequently Asked Questions on Scuba Diving
Q1. What is the permissible age range for scuba diving in Andaman, and who should refrain from this activity?
The age limit for scuba diving in Andaman ranges from 10 to 60 years. However, individuals such as pregnant women, people above 60 years, or those with heart or breathing conditions are advised not to engage in scuba diving.
Q2. How much does scuba diving cost in Andaman?
Scuba diving prices in Andaman vary depending on the vendor, the season, and the type of diving. On average, expect to pay anywhere between INR 3000 and INR 6000.
Q3. Is it safe to go scuba diving in Andaman?
Yes, scuba diving in Andaman is generally considered safe, especially between November and early May. However, it's important to monitor weather conditions, as stormy weather can increase diving difficulties.
Q4. Can non-swimmers participate in scuba diving in Andaman?
Indeed, non-swimmers can participate in scuba diving in Andaman at certain diving sites, under the guidance of a dive instructor. The maximum depth for beginner divers is typically 20 metres.
Q5. When is the best time for scuba diving in Andaman?
The best time for scuba diving in Andaman is from November through early May.
Q6. What are the top-rated sites in Andaman for deep-sea diving?
Andaman boasts approximately 41 dive sites, with the most renowned ones located in Havelock Island and North Bay Island.
Q7. Where can I source scuba diving gear/equipment?
Scuba diving gear/equipment can be rented or purchased from a certified scuba dive store.
Q8. Should I purchase or rent scuba diving gear?
This depends on how often you go diving. If you plan to dive regularly or aspire to become a certified diver, purchasing your own gear from a reputable vendor is a good investment. For one-off diving experiences, renting is the more economical option.
Q9. What should I expect on my first scuba diving experience?
Expect an introduction to the basic safety guidelines and skills needed to dive under the direct supervision of a PADI/SSI Professional. Your first dive will take you to a depth of up to 12 metres. You'll explore the spectacular marine life and might even get a chance to interact with a variety of fish and other underwater creatures.
Q10. How can I become a certified scuba diver in Andaman?
There are numerous PADI/SSI certified diving schools in Andaman that offer courses for beginners. These courses include theoretical as well as practical training. Upon successful completion of the course, you'll receive a diving certificate that is recognized internationally. Remember, swimming skills are a prerequisite for these courses.