Discover the best places to visit in Havelock Island (Swaraj Dweep) and immerse yourself in the beauty of this tropical paradise. From the renowned Radhanagar Beach, ranked as one of the best beaches in Asia, to the adventurous Elephant Beach with its thrilling water sports, Havelock Island offers something for every traveller. Explore the serene Kalapathar Beach, witness the enchanting Mangrove Forest, and unwind at the captivating Govind Nagar Beach. Don't miss the Japanese Hill for a tranquil jungle experience and dive into the mesmerising underwater world with The Dive Master. Complete your journey with a visit to the iconic Havelock Lighthouse and indulge in relaxation at Coral Spa. Plan your trip to Havelock Island and create unforgettable memories amidst its natural wonders.
Havelock Island, a captivating jewel renamed as Swaraj Dweep, is nestled amidst the azure waters of the Andaman and Nicobar Islands. Here, nature weaves its magic, painting a landscape that is nothing short of paradise. With its pristine beaches, vibrant coral reefs, and lush greenery, Havelock Island invites you to embark on a journey of serenity and wonder. Imagine strolling along sea shores, feeling the warmth of the sun on your skin and the gentle touch of the ocean waves. Havelock Island offers a sanctuary of tranquillity, where time slows down and worries fade away.
Whether you seek thrilling adventures or a peaceful retreat, Havelock Island has something for everyone. Dive into the crystal-clear waters to witness a kaleidoscope of marine life, kayak through mangrove forests, or trek through lush jungles to discover hidden waterfalls. Indulge your senses in the island's culinary delights, savouring fresh seafood and exotic flavours that tantalise your taste buds. As the day fades into dusk, witness nature's breathtaking spectacle during a serene sunset cruise.
Click here to check our customized Andaman Tour Packages
Let's dive straight into the best tourist destinations to visit in Havelock Island:
Radhanagar Beach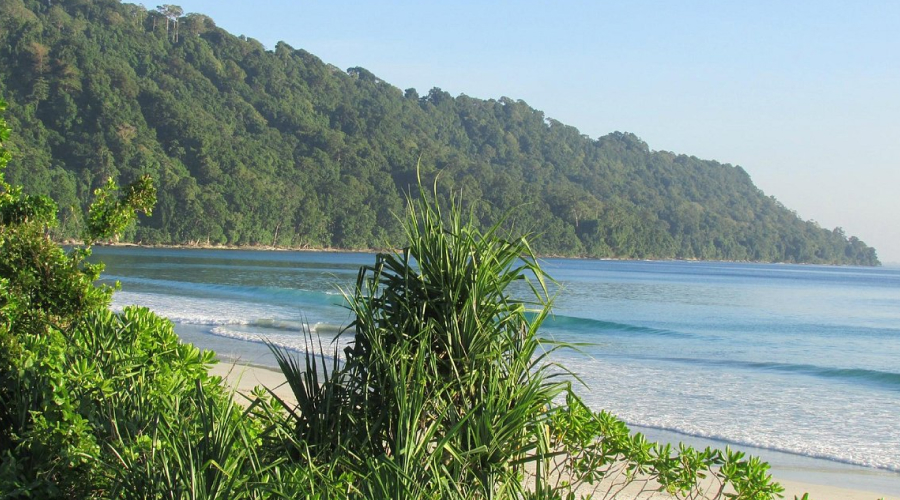 One cannot miss visiting the enchanting Radhanagar Beach while exploring the beautiful Havelock Island in Andaman. This picturesque haven captivates visitors with its mesmerising expanse of golden sand, adorned by swaying palm trees and the sparkling clarity of its crystalline waters. At Radhanagar Beach, every sunrise and sunset presents a breathtaking spectacle, beckoning avid photographers to capture precious memories. The presence of eco-changing rooms and the charming assortment of beach shacks and hammocks further enhance its allure, offering both convenience and relaxation.
Owing to its unparalleled beauty and impeccable cleanliness, Radhanagar Beach has been bestowed with the TripAdvisor's Travellers Choice award for the Best of the Best Beaches. Garnering the remarkable distinction of being ranked as the number 1 beach in Asia and the seventh best beach in the world, this coastal paradise has won the hearts of globetrotters far and wide. Adding to its accolades, Radhanagar Beach was honoured with the esteemed Blue Flag certification from the Foundation for Environment Education, Denmark, in 2021. This distinguished recognition is reserved for beaches that meet stringent criteria encompassing bathing water quality, environmental management and conservation, safety, and service excellence. Such esteemed commendations serve as a magnetic force, luring tourists from every corner of the globe to experience the splendour of this extraordinary destination. It is indeed one of the most popular destinations to visit in Havelock Island.
How to reach Radhanagar Beach?
Radhanagar beach is around 10 Km away from the Havelock Jetty. You can easily reach Radhanagar beach by taking SH4 road via cab or an auto.
Elephant Beach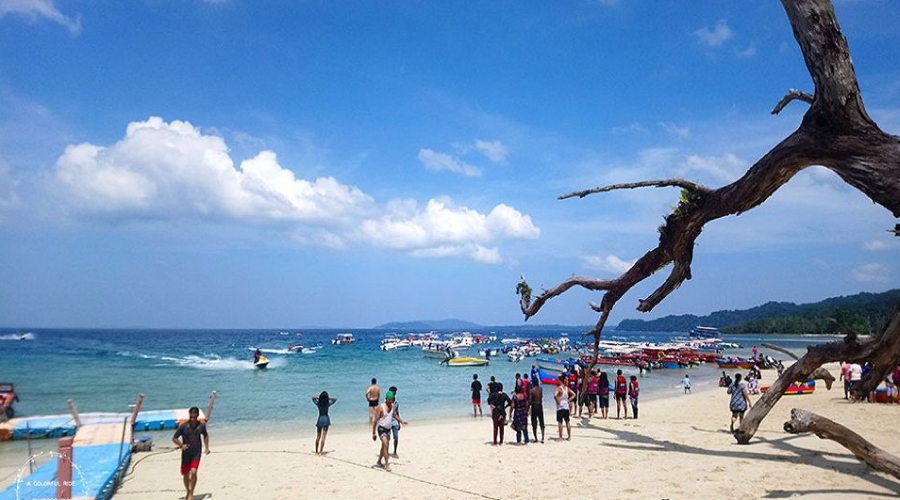 If you're looking for adventure water sports in Havelock island, then Elephant Beach is a must-visit place! It's the perfect spot for snorkelling, scuba diving, sea-walking, and even enjoying a thrilling banana boat ride. As soon as you dive into the crystal-clear waters of Elephant Beach, you'll be treated to a stunning view of beautiful coral reefs that will leave you speechless. It is one of the popular beaches in Havelock Island to witness the beauty of corals.
One of the best things about Elephant Beach is its location near Radhanagar Beach and Kalapathar Beach, which have made it increasingly popular among tourists and beach lovers. It's also a great beach to visit if you're travelling with kids because they have locker rooms and changing facilities to make your experience more convenient. And don't worry about getting hungry – there are small snack shops nearby where you can grab a quick bite.
Elephant Beach is open from 8:00 AM to 5:00 PM, and the best part is that there's no entry fee to enjoy the beach itself. However, if you want to take part in water sports activities, you'll need to pay a small fee. So, feel free to explore the beach, have fun, and make unforgettable memories in this exciting water sports paradise!
How to go to Elephanta beach in Havelock?
To reach Elephant Beach in Havelock, first, travel to Port Blair by air or ferry. From there, take a government or private ferry to Havelock Island. Once in Havelock, you can either enjoy a thrilling boat ride from the jetty or embark on a moderate trek through scenic trails to reach Elephant Beach. Indulge in water sports, explore marine life through snorkelling and scuba diving, or simply unwind on the beautiful beach. Remember to plan ahead and check boat timings for a smooth and enjoyable journey.
Kalapathar Beach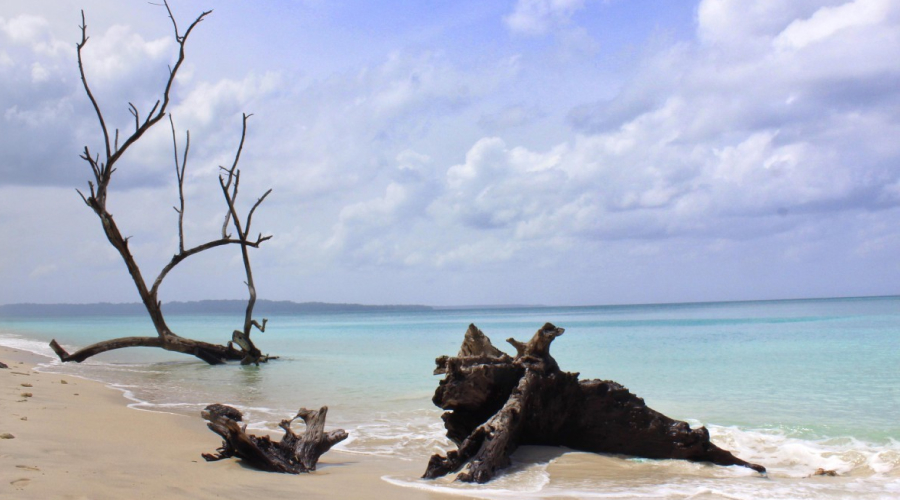 Kalapathar Beach, one of the top-notch tourist attractions in Havelock Island, stands out for its unique features and serene ambiance. Its name derives from the surrounding Kalapathar village and the striking black rocks that grace its shoreline. This tranquil haven offers a perfect escape for those seeking peace and tranquillity. Couples on a romantic honeymoon will find this beach particularly enchanting, providing an intimate setting to cherish precious moments together. Families can also enjoy a delightful picnic by the shore, allowing the little ones to revel in the scenic beauty.
Away from the bustling crowds of other Havelock beaches, Kalapathar Beach offers a blissful retreat, where you can bask in the warm afternoon sun and soak in the golden hues. Immerse yourself in the breathtaking aura of the beach and indulge in sweeping panoramic views that will leave you in awe. Don't forget to bring your camera along, as every corner of Kalapathar Beach offers captivating vistas that are sure to mesmerise you.
How to reach Kalapathar Beach from Port Blair?
From Port Blair , take a government or private ferry to Havelock Island. Once in Havelock, you can hire a taxi or auto-rickshaw from the jetty, or rent a scooter or bike to reach Kalapathar Beach. The journey takes approximately 20-30 minutes, allowing you to enjoy the scenic beauty of the island.
Vijay Nagar Beach
If you're seeking a blissful blend of leisure and natural beauty, one of the places to see in Havelock Island is Vijay Nagar beach and it should definitely be on your itinerary. This picturesque stretch of coastline is adorned with hotels, attracting visitors who revel in invigorating morning runs along the shore. The beach offers an awe-inspiring spectacle of sunrise, a moment worth capturing as a cherished memento. With its crystal-clear turquoise-blue waters, Vijay Nagar Beach is ideal for a refreshing swim. Numerous sun decks invite you to recline and unwind, while ample shade awaits for a respite after sunbathing. While the beach remains open 24/7, it's advisable to avoid late evening visits due to high tides. So, lace up your walking shoes, soak up the scenic vistas, and let Vijay Nagar Beach envelop you in tranquillity and serenity.
How to reach Vijay Nagar beach in Havelock Island?
Reaching Vijay Nagar Beach in Havelock Island is a straightforward journey. Upon reaching Havelock Island from Port Blair, you can hire a taxi or auto-rickshaw from the jetty to directly reach Vijay Nagar Beach. The beach is easily accessible and well-known, making it convenient for visitors to explore.
Mangrove Forest in Havelock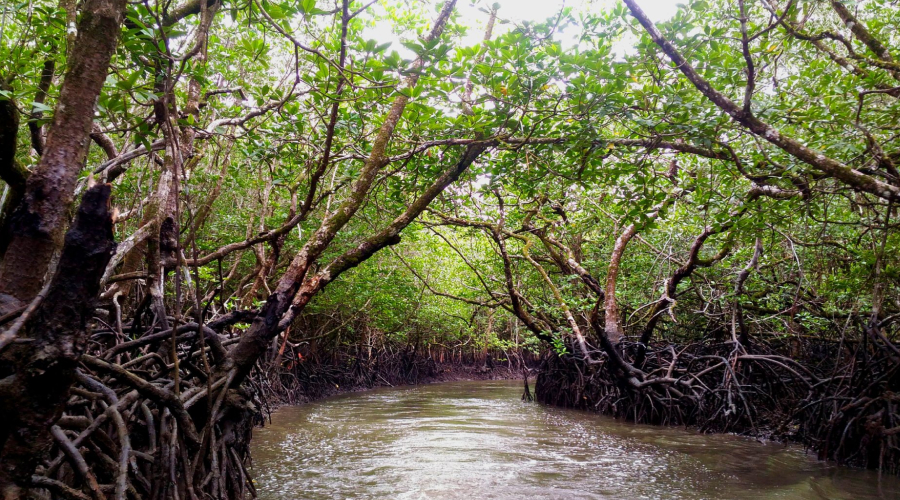 Immerse yourself in the wonders of nature by visiting the enchanting Mangrove forest, a captivating natural attraction in Havelock Island. This serene paradise beckons not only to avid bird watchers but also to those seeking solace amidst lush greenery. As you wander through the forest, you'll encounter numerous migratory birds, gracefully gliding above and feeding on small fishes in the surrounding waters. Capture these mesmerising moments with your camera, preserving memories that will last a lifetime. To explore the Mangrove forest in Havelock, embark on an adventurous kayaking journey or opt for a peaceful boat safari. Whichever mode of exploration you choose, a delightful experience awaits amidst the tranquil embrace of this natural haven.
How to reach Mangrove Forest in Havelock Island?
To reach the Mangrove forest in Havelock Island, there are a few options available. You can book a guided kayaking tour that will take you through the winding waterways of the forest, allowing you to immerse yourself in its natural beauty. Alternatively, you can opt for a boat safari that will navigate through the mangroves, providing a relaxing and scenic experience. Both options offer a wonderful opportunity to explore the Mangrove forest and witness its diverse ecosystem up close.
Govind Nagar Beach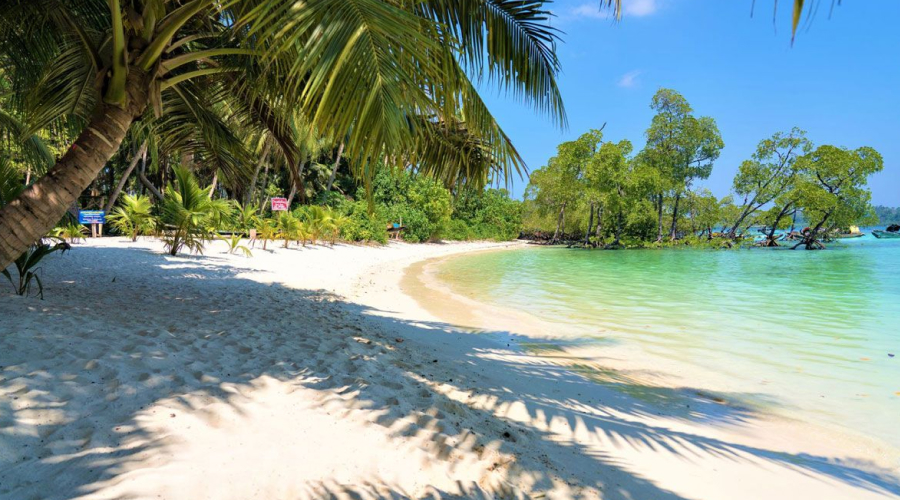 Make sure to include the enchanting Govind Nagar Beach in your travel itinerary for Havelock Island. This captivating destination offers a serene and tranquil ambiance, perfect for unwinding and reconnecting with nature. Whether you choose to bask in the warm sun, indulge in a leisurely read, or simply take a leisurely stroll along the shore, Govind Nagar Beach promises a rejuvenating experience. As you soak in the scenic views, you'll witness tourists engaged in vibrant beach volleyball matches, enjoying boat rides, and finding solace in the peaceful surroundings.The beach is one of the best places to see in Havelock Island. Embrace the solitude and find your own bliss under the comforting shade of this picturesque beach.
The golden sands invite you to relax and create cherished memories as you watch the waves caress the shore. Whether you're seeking solitude or enjoying beach activities, Govind Nagar Beach offers a delightful escape from the hustle and bustle of everyday life.
How to reach Govind nagar Beach?
Govind Nagar beach is within walking distance from Havelock Jetty or Helipad. You can hire a two-wheeler or a cab to reach here within 10 minutes from most of the hotels on the island.
Japanese Hill
Don't miss out on the captivating Japanese Hill, one of the natural spots in Havelock Island, located near Radhanagar Beach. This verdant tropical forest invites you to embark on a thrilling jungle safari, where you can encounter a diverse array of plants, birds, butterflies, and reptiles. Immerse yourself in the tranquil surroundings and let the breathtaking scenic views of Japanese Hill create a sense of peace and serenity. Exploring this small forest area takes approximately an hour and a half, offering a delightful escape from the chaos of city life.
As you venture into the Japanese Hill, be prepared to be amazed by the rich biodiversity that thrives within its lush foliage. The melodic songs of birds and the vibrant flutter of butterflies will accompany you on your journey, creating a harmonious symphony of nature. Take your time to soak in the beauty of this serene oasis, allowing its tranquillity to rejuvenate your mind and nourish your soul.
The Dive Master Havelock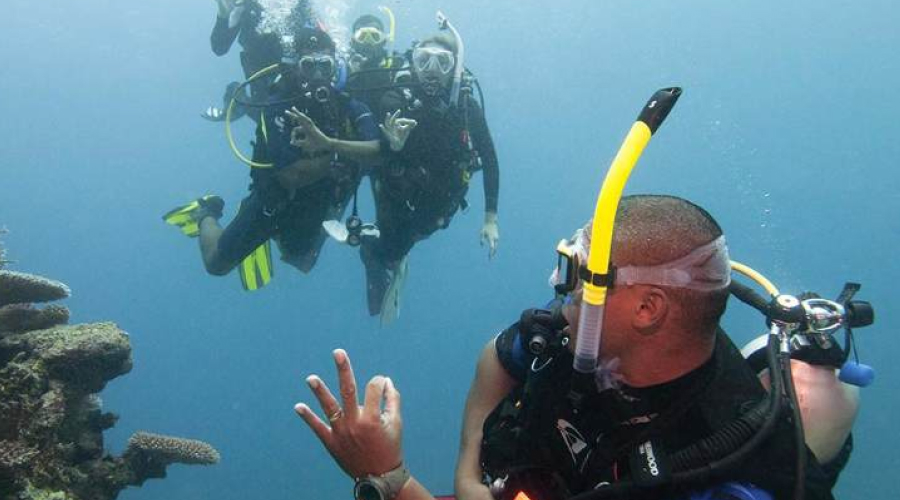 For those seeking an unforgettable underwater adventure in Havelock Island, The Dive Master is the ultimate destination. Whether you're a beginner or new to diving, this renowned establishment is renowned for its exceptional professionalism and friendly approach, ensuring that even the most apprehensive individuals can overcome their fears and embrace the wonders of underwater sports in Andaman. With their stellar reputation and commitment to customer satisfaction, The Dive Master is widely regarded as one of the top diving centres in Havelock. Allow their expertise to guide you as you dive into the mesmerising marine life and discover the thriving ecosystem that lies beneath the surface. Prepare to be captivated by the enchanting underwater world of Andaman with The Dive Master as your trusted companion.
Address: Yu-Govindanagar, Swarajdweep A&N Islands, Port Blair 744211, India
Havelock Lighthouse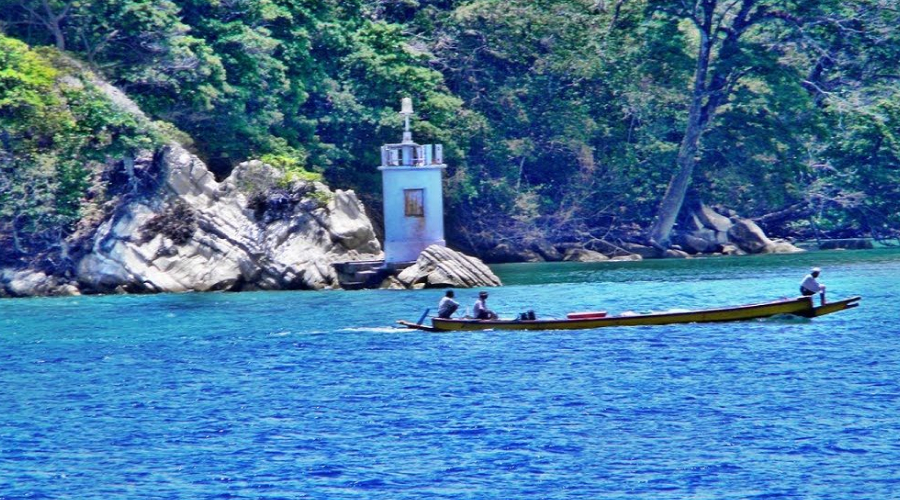 During your sightseeing in Havelock Island, a must-visit landmark is the iconic Havelock Lighthouse. Just a short 30-minute motor boat ride from the main dock of Havelock Island will transport you to the oldest lighthouse on the island. This picturesque location is renowned for its unspoiled surroundings and breathtaking coral reefs. Many visitors flock to this spot to marvel at the vibrant coral reefs and the diverse marine life that thrives beneath the surface, often opting for a glass-bottom boat ride for an up-close view. For the more adventurous souls, snorkelling or scuba diving allows for a deeper immersion in nature's awe-inspiring beauty. Prepare to be delighted by the captivating sights and wonders that await you at the Havelock Lighthouse.
Address: Havelock Lighthouse, Havelock Island, Andaman and Nicobar Islands, India.
Coral Spa
After a day of sightseeing and beach hopping in Havelock Island, treat yourself to a rejuvenating experience at Coral Spa, a haven of relaxation in Havelock. Unwind and let go as you indulge in their exceptional spa treatments, designed to nurture your physical and mental wellbeing. With a team of professional and experienced masseurs, Coral Spa promises a detoxifying and revitalising experience like no other. Surrender yourself to their skilled hands and emerge feeling renewed and refreshed, ready to continue your adventures in Havelock Island.
Address: No-5, Vijayanagar Havelock Island, Havelock Island, Andaman and Nicobar Islands 744211
Market No 3 in Havelock
If you are looking for shopping in Havelock island, explore the local market in Market No. 3 and No. 2 Village, where charming shops await your discovery. While these shops typically close in the afternoon, they offer a variety of unique items to enhance your Havelock Island experience. Treat yourself to exquisite jewellery crafted from shells and wood, perfect as a memento or gift. If you find yourself in need of swimming or diving gear, fear not! The local dive shops have got you covered, ensuring you don't miss out on any underwater adventures. Don't forget to browse through the assortment of shell jewellery, wood jewellery, and other delightful souvenirs, allowing you to take a piece of Havelock's beauty and memories back home with you.