Chennai to Andaman by Ship
Chennai to Port Blair by ship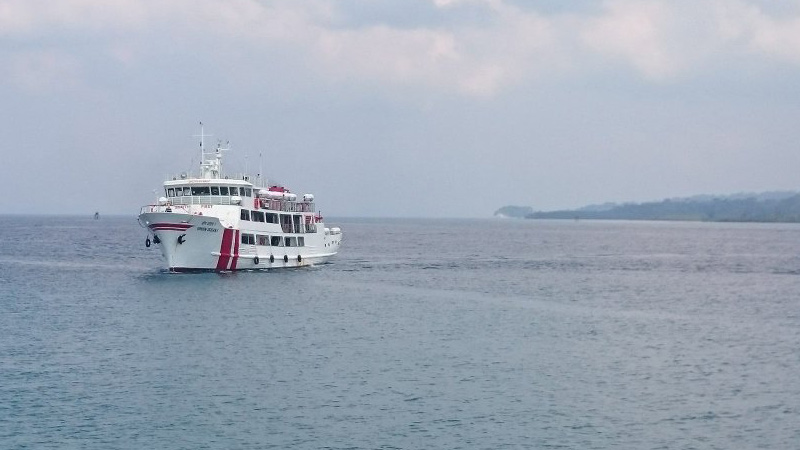 Plan an idyllic and lazy holiday from Chennai to Port Blair by ship. The journey takes 50 to 60 hours approximately. There are trips scheduled every week. You can choose what suits you best.
The ship fare packages fall into four different categories. The fares differ for the different ships and classes and also for the non-islanders and the islanders. Islanders can avail concessions. The ships that ply between Port Blair and Andamans are MV Nicobar, MV Nancowry, MV Akbar, MV Harshavardhana, MV Campbell Bay and MV Swaraj Dweep.
For the various rate charts and ticket booking, visit the online sites that provide elaborate pricing mechanism.
Deluxe Cabin – Ticket fares are Rs. 5,040 for Islanders and Rs. 9,750 for Non-Islanders.

First Class Cabin – Ticket fares vary by a small range from Rs. 4,380 to Rs. 4,550 for Islanders and Rs. 6,890 to Rs. 8,080 for Non-Islanders.

Second Class Cabin – Rs. 3,420 for Islanders and Rs. 6,420 for Non-Islanders.

Bunk – Rs. 830 to Rs. 920 for Islanders and Rs. 2,180 to Rs. 2,500 for Non-Islanders.
Some ships might have Second Class 'A' cabin and Second Class 'B' cabin. MV Akbar has AC Dormitory where the tickets fare Rs. 2,280 for Islanders and Rs. 4,190 for Non-Islanders.
Also tickets cannot be booked online. They can be bought only from the ticketing counters in Kolkata and Chennai and some nine odd ticketing counters in the Andamans Islands itself.
Duration of the journey from Chennai to Port Blair
Journey time from Chennai to Port Blair is about 60 hours to cover a distance of 1,160 kms. Among the facilities available in the ship, food and soft drinks are available by paying extra money. Foods and refreshments are generally not included in the ship fare, except the morning tea in case you are having a Deluxe Cabin accommodation.
Best of Andaman packages
The far-flung location and the sun-kissed beaches of Andamans make for an ideal vacation. The beauty and thrill both combine to give the ultimate satisfaction of a vacation to travellers and tourists.
Andamans is a Food Lover's Delight
Being an island destination, Andaman has several restaurants that specialise in seafood. The seafood prepared in these eating joints is caught fresh and is a must-have for any visitor. Different varieties of fish are available for tourists cooked in a variety of ways, roasted, grilled, curried or steamed. Accordingly, the side dishes can be chosen. Having a meal on the pristine beaches of Andaman from the innumerable beach shacks is something travellers would not want to miss out.
New Lighthouse Restaurant is a great place to have breakfast as it serves delicacies like grilled fish, lobster and crab. Waves Restaurant, Lighthouse Residency located in Aberdeen Bazar in Port Blair, Rony's in Beach 5 of Havelock Island are sumptuous options for people who want to have good seafood. Adi Bengali Hotel at MA Road in Port Blair is a Bengali's delight with its pleasant array of seafood dishes and curries.
Andamans has everything in its platter. It is a delight for the lovers of coastal cuisines and seafood. It is also equally a delight for honeymoon couples who would want some intimacy and private space of meals served with love in natural surroundings without much crowd to set you off-mood.
Starting from the cosy and hygienic beach shacks to the plush and the enjoyable ambience of the four-star and five-star restaurants, Andamans has everything to satisfy all taste buds. There are quite a few restaurants that specialize in authentic North Indian and South Indian cuisine much to the delight of the most Indian travellers. Vegetarians need not be heartbroken too as there are plenty of options to pick from. Whether it is Indian, continental, Italian or Mexican Andaman has all. You dream, you get.
The veg thalis are worth trying for in Annapurna Cafeteria in Port Blair in the Aberdeen Bazaar Area, The Icy Spicy in Port Blair or the Gagan restaurant are all worth trying for. The Full Moon Café, Anju Coco or the Fat Martin, all located in the Havelock Island, serve delectable veg cuisine.