Discover the top places to visit in Neil Island for an unforgettable experience. Immerse yourself in the stunning beauty and serenity of this charming destination. From breathtaking beaches to a vibrant market, Neil Island has it all. Explore Ramnagar Beach's mesmerising coral reef, take a leisurely stroll along Laxmanpur Beach, and find solitude at Sitapur Beach. Dive into adventure at Bharatpur Beach or shop for fresh produce at Neil Kendra Market. Don't miss the remarkable Natural Bridge and indulge in the island's delectable cuisine. Escape the hustle and bustle and embrace the tranquillity of Neil Island.
The stunning and serene Neil Island, also known as Shaheed Dweep is located in the Southern Andaman district of the beautiful Andaman and Nicobar archipelago, this charming island invites you to experience a slice of paradise. With its fertile lands and abundant crops, Neil Island has earned the nickname "vegetable bowl of Andaman." Prepare to be captivated by the breathtaking natural beauty that awaits you here. The crystal-clear turquoise waters, verdant greenery, and velvety soft sand of Neil Island's beaches create a postcard perfect setting for relaxation and exploration.
Whether you're a nature lover or someone seeking solace, this island has something truly special to offer. Just 36 km away from the bustling capital city of Port Blair, Neil Island provides a tranquil escape from the hustle and bustle of everyday life. It's a place where you can unwind, soak up the sun, and immerse yourself in the serenity of your surroundings. Without any further ado, let's dive into the best tourist places to visit in Neil Island.
Click here to check our customized Andaman Tour Packages
Ramnagar Beach
Located approximately 35 kilometres away from Diglipur, Ramnagar Beach is a hidden gem that offers a truly enchanting experience. As you set foot on the shore, you'll be greeted by a mesmerising S-shaped coral reef, one of the beach's most distinctive features. The sight of this natural wonder will leave you in awe and provide a glimpse into the extraordinary underwater world. The beach is laid with soft sands that gracefully merge with the azure sky and turquoise waters, creating a harmonious blend of colours. Whether you prefer to sit back and soak in the tranquil atmosphere or stretch out on a mat with a good book, Ramnagar Beach offers the one of the perfect tourist attractions in Neil Island for your much-needed "me-time".
If you're an adventure enthusiast, then there are a few snorkelling spots in the vicinity where you can explore vibrant coral reefs and witness an array of marine life. However, it's important to note that swimming here requires expertise due to the strong tides. So, if you're a skilled swimmer, take caution and enjoy the invigorating waters to their fullest.
Nature lovers will be thrilled to discover that Ramnagar Beach is also famous for its nesting turtles. If you happen to visit between December and March, during the winter season, you might be lucky enough to witness these magnificent creatures in their natural habitat. It's a truly extraordinary sight and a testament to the island's commitment to preserving its unique biodiversity.
How to go to Ramnagar Beach: Ramnagar beach is conveniently connected by roads and one can easily reach there by hiring a taxi or an auto-rickshaw. Ramnagar beach is open till 7:30 PM.
Things to do at Ramnagar Beach:
Witness nesting turtles
Snorkelling
Swimming
Trekking
Take a long walk on the beach to feel relaxed and rejuvenated.
Laxmanpur Beach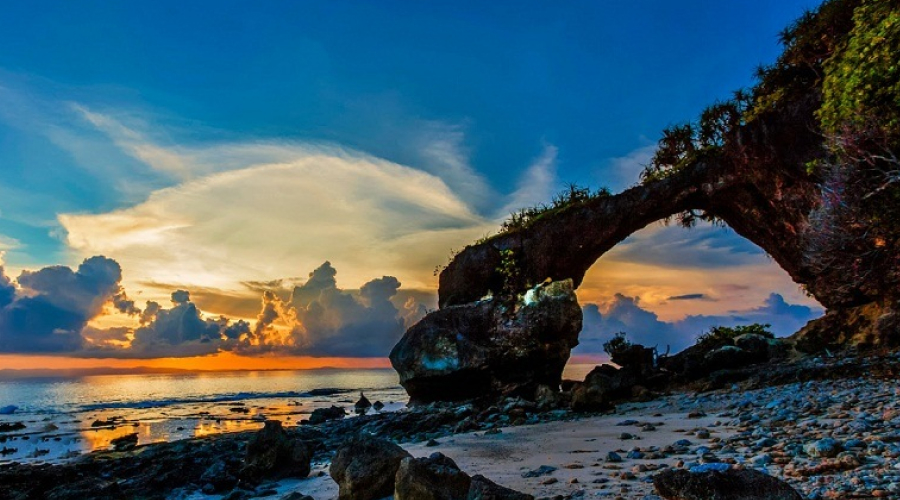 When it comes to sightseeing in Neil Island, Laxmanpur Beach is a destination that should not be missed. You will be delighted by the wonders of this captivating beach and all that it has to offer. Upon reaching Laxmanpur Beach, you'll notice that due to its strong ocean currents, water sports activities are not available here. However, don't let that deter you, as this beach has a charm of its own. Take a leisurely stroll along the shore, allowing yourself to immerse in the serene ambiance and soak in the breathtaking views of nature. The absence of water sports actually adds to the tranquillity, making it an ideal spot for relaxation and contemplation.
There are many secluded spots on this beach which offer a unique perspective of the surroundings, allowing you to connect more intimately with nature. Take a moment to sit back, unwind, and appreciate the beauty that unfolds before your eyes. One of the highlights of Laxmanpur Beach is its famous sunset. Thanks to its perfect location and unobstructed view of the horizon, this beach boasts one of the most awe-inspiring sunset vistas in Neil Island.
Don't forget to indulge in the local snacks and explore the gift shops for unique souvenirs. Laxmanpur Beach is one of the best places to visit in Neil Island that will leave you with cherished memories of your time spent there.
How to reach Laxmanpur Beach: Take a bus ride from Neil Jetty to reach Laxmanpur beach which will cost you around Rs. 30/- In addition, auto rickshaw and rental scooters are also available.
Things to do at Laxmanpur Beach:
Witness the stunning sunset.
Click photos for keepsake.
Relax and Rejuvenate
Bask in the sun
Sitapur Beach
Nestled on the southern tip, Sitapur Beach is one of the popular tourist spots to visit in Neil island. If you're in search of a tranquil and serene escape, this beach is the perfect destination. Situated just 5 kilometres from the main area of Neil Island, Sitapur Beach offers a sense of solitary bliss that is hard to find elsewhere. As you approach the beach, you'll be greeted by lush greenery, creating a natural embrace that sets the stage for a truly magical experience. When you reach the shoreline, you'll be treated to a mesmerising view of the open sea, stretching out as far as the eye can see. It's a breathtaking panorama that will leave you in awe of nature's grandeur.
Sitapur Beach is a canvas for creating unforgettable memories. It's an ideal spot for building sandcastles with your little ones, as the soft sand invites you to unleash your creativity and indulge in playful moments. You can also play in the gentle foam of the waves, feeling the refreshing touch of the sea against your skin. The beach offers a serene environment, allowing you to simply relax and unwind without a care in the world. Take a leisurely stroll along the shoreline, letting the rhythmic sound of the waves and the gentle caress of the sea breeze soothe your soul.
How to Reach Sitapur Beach: Take a cab ride or an auto rickshaw ride from Neil jetty to comfortably reach Sitapur Beach. There are very few bus services that will take you to Sitapur beach so choose according to your budget and convenience. Sitapur beach is open till 7:30 PM.
Things to do at Sitapur Beach:
Witness the beautiful sunrise.
Photography
Jogging
Meditation and Yoga
Swimming
Sunbathing and relaxing.
Bharatpur Beach
Bharatpur Beach is an absolute haven for adventure enthusiasts craving an exhilarating experience. Whether you're a fan of scuba diving, swimming, or snorkelling, this beach has it all to get your adrenaline pumping. Dive into the depths of the ocean, swim alongside vibrant marine life, or explore the mesmerising corals while staying dry with a thrilling glass boat ride. For a nominal fee of Rs 100/- per person, you can witness the magnificent underwater world without even getting wet.
But don't worry, if water sports aren't your thing, there's still plenty to enjoy at Bharatpur Beach. Engage in a friendly game of beach volleyball or let your creative side shine by building sand castles with your little ones. If relaxation is more your style, bask in the warm sun and take a leisurely stroll along the sandy shore. Bharatpur Beach offers a perfect blend of adventure and tranquillity, ensuring there's something for everyone to cherish on this stunning coastline.
How to reach Bharatpur Beach: You can reach Bharatpur beach via Bharatpur beach road which is a short distance of 2.8 Km and it can be easily covered via rental two-wheeler, cab or an auto ride. It will take you around 6 minutes to reach. Bharatpur beach is open till 6:00 PM.
Things to do at Bharatpur Beach:
Snorkelling
Swimming
Scuba Diving
Glass boat ride
Enjoy jet skiing
Banana boat rides and speed boat rides
Neil Kendra Market
While Neil Island may not boast large and extravagant shopping outlets, you can still satisfy your shopping cravings at the Neil Kendra Market, conveniently located at Neil Jetty. This charming marketplace offers a unique shopping experience where you can find a variety of items to suit your needs. One of the highlights of Neil Kendra Market is the availability of fresh and organic produce. Explore the stalls brimming with vibrant fruits, vegetables, seafood and other locally sourced products. Indulge in the goodness of farm-fresh ingredients that will add a touch of authenticity to your meals during your stay on the island.
As you navigate through the market, remember to haggle down the prices. Bargaining is a common practice in this marketplace, allowing you to get some great discounts. So, don't hesitate to negotiate the price and make your shopping experience even more enjoyable.
What can you buy at Neil Kendra Market?
As mentioned earlier, Neil Kendra Market offers the best and organic fresh produce of fruits and vegetables. Besides, you can also get the freshest of seafood at extremely low prices. Don't forget to bargain.
Natural Bridge in Neil Island (Howrah Bridge)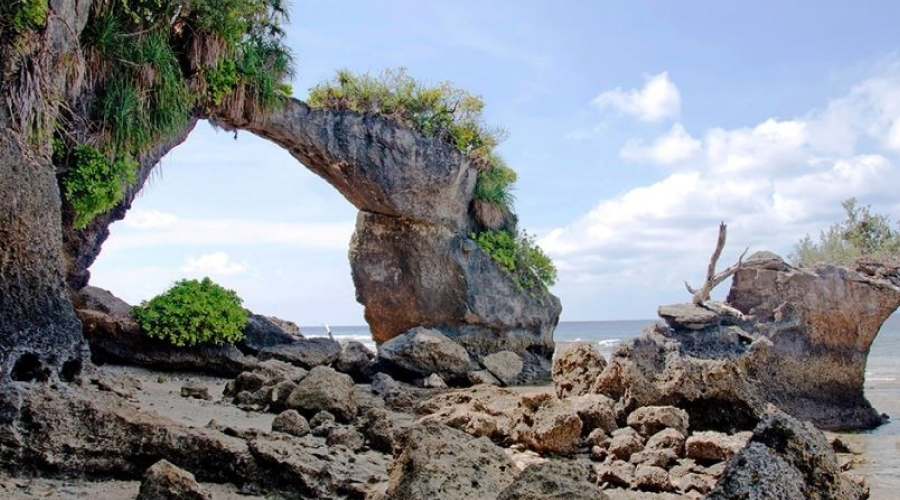 In the heart of Neil Island lies a remarkable geological wonder known as the Natural Bridge. The Natural Bridge is a striking rock formation that juts out from the main wall, creating a magnificent hole that has been intricately carved by the relentless crashing waves over time. What makes the Natural Bridge even more fascinating is its pivotal role in safeguarding Neil Island during the catastrophic Tsunami of 2004. Acting as a resilient barrier, the solid wall of the Natural Bridge courageously absorbed the brunt of the mighty waves, effectively shielding the island from widespread devastation.
As you explore the Natural Bridge, you'll discover another fascinating feature in the far corner. A new bridge-like formation is slowly taking shape, captivating visitors with its intriguing progress. Locally known as the Howrah Bridge, this name was playfully bestowed upon it by the Bengali settlers. It serves as a lighthearted nod to the iconic Howrah Bridge in Kolkata.
If you're a photography enthusiast, the Natural Bridge and the Howrah Bridge offer fantastic opportunities to capture lasting memories. The unique formations, the interplay of light and shadow, and the breathtaking coastal scenery make for remarkable photographs that will serve as cherished keepsakes of your visit to Andaman Islands.
How to reach Natural Bridge: In order to reach the Natural Bridge at Beach no 2, you can hire a two wheeler or take an auto ride. After reaching the entrance of the beach you have to walk on a rocky path for about 100 m to be able to see the Natural Bridge. The Natural Bridge is open till 7:30 PM.
Things to around Natural Bridge:
Photography
Trekking
Bird Watching
Collect some seashells for keepsake.
As we conclude our exploration of the tourist destinations in Neil Island, you can notice that this island offers much more than the typical water sports attractions found elsewhere. Instead, it beckons you to embrace something far more valuable: serenity, tranquillity, and solitude. In a world filled with the chaotic bustle of crowded city life, Neil Island stands as a haven for those seeking inner peace and a rejuvenating outlook on life. It provides the ideal setting for introspection, allowing you to embark on a soul-searching journey and gain a fresh perspective on the world around you.