Discover the enchanting beauty of Ross Island, now known as Netaji Subhash Chandra Bose Island. Immerse yourself in its rich history as you explore the remnants of the British colonial era, visit Deer Park, witness the colonial ruins, and experience the mesmerising light and sound show. Plan your visit to this tranquil island and enjoy a delightful journey back in time.
Ross Island, now renamed as Netaji Subhash Chandra Bose Island, is an enchanting destination nestled in the South Andaman district, just a short three-kilometre away from the vibrant capital city of Port Blair. This captivating island has become a favourite among tourists for its historical significance, picturesque sights, opportunities for bird watching, stunning photography spots, and a chance to reconnect with nature in a tranquil setting. Prepare yourself for a delightful journey back in time as you explore the remnants of the British colonial rule that once dominated this remarkable place.
Ross Island erstwhile known as a Penal Colony serves as an intriguing historical record of the British era, as it was extensively utilised by British officials as their abode away from home. They meticulously recreated establishments from their homeland, which include a church, the majestic Government House, the Chief Commissioner's house, a quaint tennis court, a ballroom, a hospital, a printing press and a bakery. As you wander through the island, you can't help but marvel at the dilapidated structures that stand as silent witnesses to the grandeur they once possessed. You can get a glimpse into the colonial past and observe the dilapidated structures and imagine the grandeur they once held. Make sure to add Ross Island while looking for Andaman tour packages.
It's important to note that Ross Island does not feature any hotels or restaurants, which is why it is typically included in the Andaman itinerary along with a visit to North Bay Island or as part of a trip to Port Blair. To make the most of your visit, it is recommended packing some snacks, water bottles, and any other essentials you may need during your exploration of this tiny island. Ross Island welcomes visitors from 9:00 AM till late evening every day, and two to three hours should be sufficient to immerse yourself in its captivating beauty.
Now, let's dive into the must-visit tourist spots to visit in Ross Island. Prepare to be enchanted by the unique attractions that await you on this charming island.
Deer Park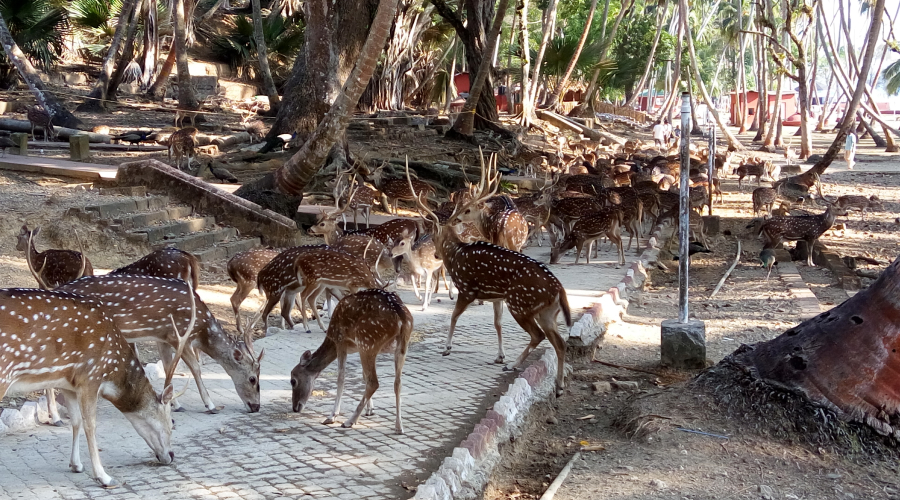 Deer Park is one of the best tourist places to visit in Ross Island, especially for animal lovers. This sanctuary offers a unique opportunity to observe and appreciate stunning deers in their natural habitat, as they roam freely within the protected area. The Andaman administration has taken measures to ensure the safety and well-being of these graceful creatures.
In addition to deer, you may also encounter peacocks during your visit to Deer Park. These beautiful birds, known for their vibrant plumage, can often be spotted in the park's surroundings. While they typically reside in the jungle, they are comfortable in the presence of humans and may even come close to visitors. It's a wonderful chance to admire their beauty and observe their calm and gentle nature.
When visiting Deer Park, it's important to remember a few guidelines. Please refrain from approaching or touching the animals, as they should be allowed to roam undisturbed. It is strictly prohibited to feed the deer or any other animals in the park. This ensures their well-being and preserves their natural behaviours.
Take your time to immerse yourself in the serene ambiance of Deer Park, and enjoy observing these magnificent creatures in their natural environment. It's a fantastic opportunity to connect with nature and appreciate the wildlife of Ross Island.
Address – Deer Park, Ross Island,South Andaman District, Andaman and Nicobar Islands, India.
The British Colony Ruins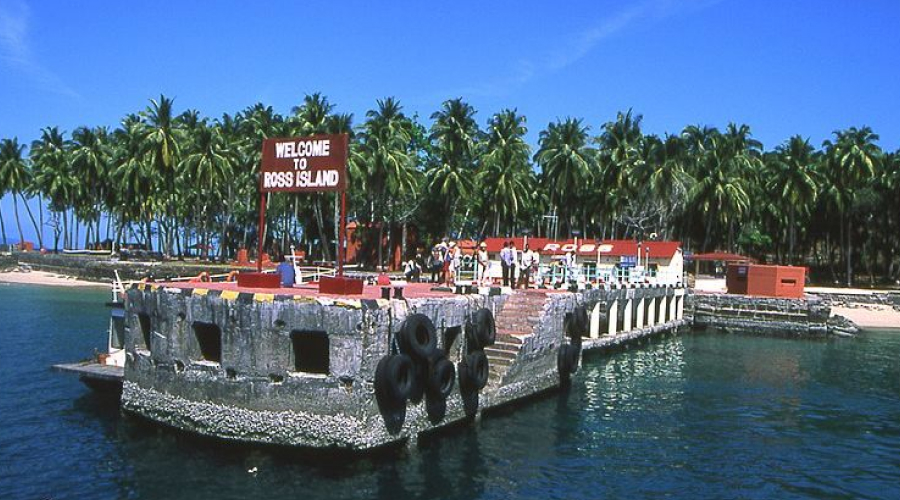 Embark on a poignant journey through the remnants of the British colonial era on Ross Island, which serves as a sombre reminder of the hardships endured by Indians during that time. The ruins standing before you bear witness to the opulent structures that were constructed to cater to the lavish and flamboyant British lifestyle. As you explore, be sure to have your camera at the ready to capture the striking shots of the remnants of a printing press, a bungalow, a water treatment plant, and a hospital, among other fascinating structures. It is an ideal sightseeing spot in Ross Island.
While most of the ruins remain as silent reminders of the past, the Indian Naval authorities have taken the initiative to rebuild the Church and the bakery, allowing tourists to experience a glimpse of the colonial era. These reconstructed landmarks serve as a testament to the island's rich history.
In addition to capturing awe-inspiring photographs of the majestic ruins, make sure to allocate some time for souvenir shopping at the bakery. Here, you can find unique mementos to commemorate your visit to Ross Island. The bakery offers delightful locally crafted items, making it a worthwhile stop during your exploration.
The Light and Sound Show
One of the things to do in Ross Island is experience a captivating journey into the past with the mesmerising light and sound show at Ross Island. This immersive spectacle provides a doorway into the history of the island, revealing the meticulous planning and construction that shaped its development. The show takes centre stage in showcasing the pivotal penal settlement period, shedding light on the arrival of the Britishers in Andaman and their primary objectives in building and establishing their administration to govern the isles.
Through a combination of lights and sound, the show transports you back in time, allowing you to witness the events and decisions that shaped the destiny of Ross Island. As you watch, you'll gain insights into the motivations and strategies employed by the Britishers as they endeavoured to assert their authority over these remote islands.
Prepare to be enthralled as the light and sound show brings to life the fascinating tale of Ross Island's history. It's a unique opportunity to immerse yourself in the narrative and gain a deeper understanding of the significant role this island played during the penal settlement period. Don't miss this enlightening experience that connects the past to the present, leaving you with a profound appreciation for the island's rich heritage.
Timings of the Light and Sound Show – 4: 00 PM or (depends on the sunset) – 6:30 PM
Ticket Price – INR 150/- per person
The Man Made Caves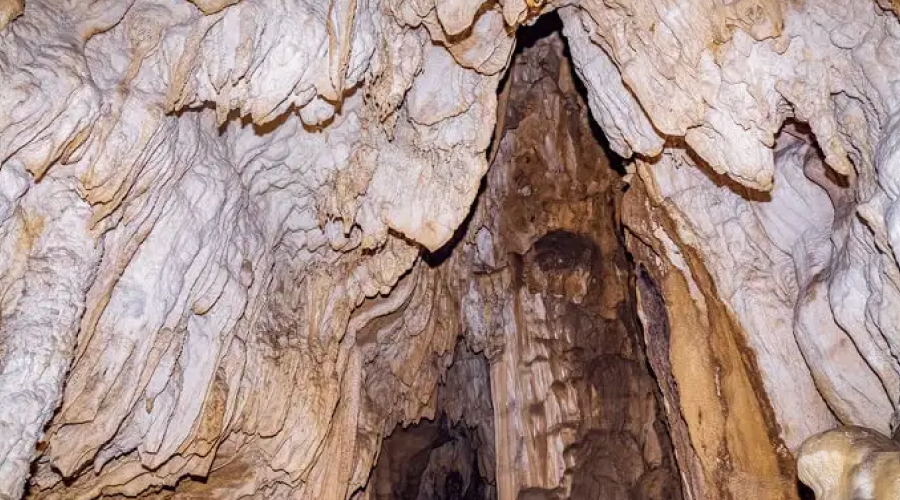 Uncover the remnants of history as you explore the caves on Ross Island. During World War II, these caves served as crucial hideouts for British troops, providing them shelter and protection from enemy attacks. It is an ideal historical attraction to visit in Ross Island. Today, these abandoned caves stand as powerful relics of the past, offering a glimpse into the challenges and sacrifices faced by those who once sought refuge within their depths.
To truly appreciate the historical significance of these caves, it is highly recommended to explore them with the assistance of a knowledgeable tour guide. A guide can provide valuable insights into the strategic importance of these caves during wartime and share fascinating anecdotes about the experiences of the troops who took shelter within their walls. Additionally, a guide can ensure your safety and help navigate through the caves, as some areas may require caution due to their age and condition.
As you venture into the caves, take a moment to absorb the atmosphere and imagine the tense and uncertain times that unfolded within these very walls. The echoes of the past reverberate as you explore the cavernous interiors, offering a unique perspective on the island's wartime history.
The Pond
Nestled within the enchanting landscape of Ross Island, you'll discover a serene and picturesque pond. This idyllic oasis is enveloped by towering trees and historic ruins that bear witness to the bygone era of British occupation. As you explore the island, be sure to carve out some time to immerse yourself in the tranquil ambiance of this captivating pond.
Find respite under the shade of a majestic tree, creating the perfect spot to relax, meditate, or delve into a captivating book. Let the soothing sounds of nature and the gentle breeze caress you as you take in the breathtaking view of the pond. The still waters reflect the surrounding beauty, creating a harmonious scene that invites reflection and rejuvenation.
While sitting by the pond, allow yourself to be enveloped by the peaceful atmosphere. Take a moment to appreciate the rich history that surrounds you, as the remnants of the past stand as silent witnesses to the island's storied past. It's an opportunity to connect with nature, engage in self-reflection, and find solace in the tranquillity that Ross Island offers.
How to reach Ross Island via ferry?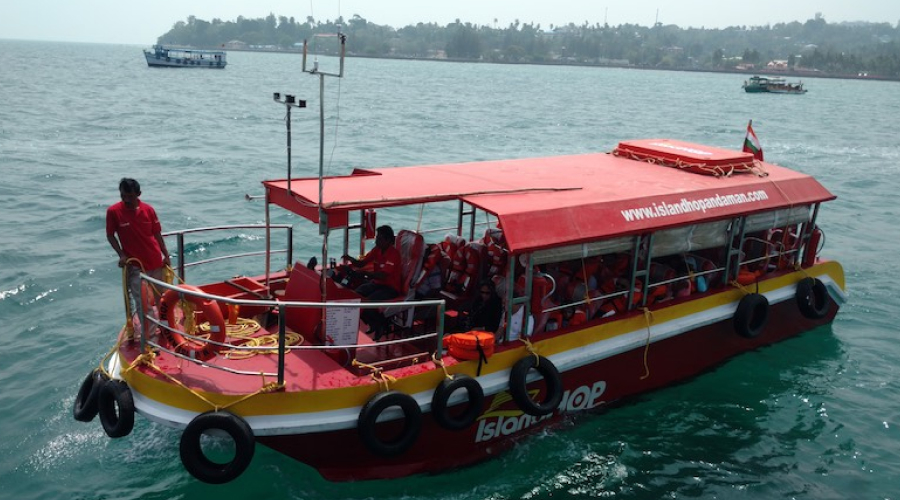 To reach Ross Island via ferry, you need to follow these steps:
Start your journey from Port Blair, the capital city of the Andaman and Nicobar Islands. Then head to the Phoenix Bay Jetty, which is located in Port Blair. This is the main ferry terminal from where ferries to Ross Island depart. Purchase your ferry ticket to Ross Island from the ticket counter at the Phoenix Bay Jetty. It is advisable to arrive early to secure your ticket, especially during peak tourist seasons. The ticket price can be anywhere from INR 200/- to INR 500/- (prices are subject to change). Board the designated ferry that is leaving for Ross Island. The ferry ride from Port Blair to Ross Island takes approximately 15 to 20 minutes. Enjoy the scenic journey as the ferry traverses the azure waters of the Andaman Sea, offering glimpses of other islands along the way. Upon reaching Ross Island, disembark from the ferry and step onto the island's jetty.
The ticket fare to reach (NSCB) Ross Island/North Bay Island from Port Blair are mentioned below:
| | | | |
| --- | --- | --- | --- |
| S. No. | Destination | Old Ticket Fare | New Ticket Fare (w.e.f. 01.09.2023) |
| 1 | Ross Island and North Bay Island | Rs. 770/- | Rs. 870/- |
| 2 | North Bay | Rs. 570/- | Rs. 670/- |
| 3 | Ross Island | Rs. 370/- | Not Change |
It is crucial to check the ferry timings and availability in advance, as they may vary depending on weather conditions and other factors. As Ross Island is uninhabited, remember to carry any necessary travel documents, water, snacks, and other essentials for your visit.
FAQs
Q1. What is the best time to visit Ross Island?
A1. The best time to visit Ross Island is during the winter months from October to February when the weather is pleasant and comfortable. The monsoon season from June to September may experience heavy rainfall, while the summer months from March to May can be hot and humid.
Q2. What is special about Ross Island?
A2. At Ross Island, you can expect to witness a fascinating blend of natural beauty and historical ruins. Explore the ruins of British-era structures, such as a church, a bakery, a printing press, and more. Enjoy the serene surroundings, including a beautiful pond and lush greenery. You can also witness friendly deers at Deer Park and learn about the island's history through the light and sound show.
Q3. Is Ross Island worth visiting?
A3. Absolutely. The historical ruins, which teleport us back in time, the calming nature, and the breathtaking flora and fauna make Ross Island worth visiting and give you a fulfilling Andaman trip.
Q4. Are there any essential services available at Ross Island?
A4. Ross Island does not have extensive facilities, but there are some essential services available for visitors. Restrooms and drinking water facilities are available at certain points on the island. However, it is recommended to carry your own food , water bottle, a mini first-aid kit and any other essential items you may need during your visit.
Q5. What is the cellular network facility like at Ross Island?
A5. The network facility at Ross Island can be limited. Due to its remote location, the availability of mobile network coverage may vary, and you may experience weaker or no signal in certain areas. It is advisable to check with your mobile service provider beforehand to understand the network coverage and availability of data services.
Q6. How much time do I need to see Ross Island?
A6. Generally, it is recommended to take around 3 to 4 hours to explore Ross Island. This time frame allows you to visit the various attractions, enjoy the light and sound show, and soak in the island's serene ambiance. However, you can adjust the time based on your preferences and interests.
Q7. Is there an entry fee for visiting Ross Island?
A6. Yes, the entry fee for tourists above 9 years old is INR 50/-, and for children under 9 years old, it is INR 25/-. Meanwhile, there is a nominal fee of INR 10 to carry a professional camera to the island.
Q8. How much is the boat ticket for Ross Island?
A8. The boat ticket for Ross Island from Port Blair is Rs. 370/- only.
Q9. What do you wear to Ross Island?
A9. It is recommended to wear light and airy cotton clothes, sturdy shoes, a cap, and a pair of sunglasses. If you are visiting on a possibly rainy day, then also carry an umbrella.
Q10. How far is Port Blair from Ross Island by boat?
A10. The distance from Port Blair to Ross Island and vice versa can be covered in 15–20 minutes by boat.