Planning a trip to Andaman can be an exciting affair, filled with the anticipation of new experiences and memories waiting to be made. One critical part of that process is selecting a hotel that will serve as your temporary home away from home. This task can be daunting, given the myriad of choices available. However, if you're heading towards the beautiful Andaman Islands, we're here to simplify the process. We've carefully selected some of the finest hotels in Andaman to help make your stay truly special.
In this guide, we'll explore the diverse offerings of Andaman's hotel landscape, providing you with essential details about their location, facilities, and pricing. Armed with this information, you'll be able to find the perfect hotel that not only meets your requirements but also aligns with your budget.
Remember, the prices quoted here are for guidance purposes and may fluctuate depending on factors such as season and demand. To avoid any surprise costs and ensure accurate budgeting, we always recommend looking up for the most current rates. So, without further ado, let's dive in.
Lemon Tree Hotel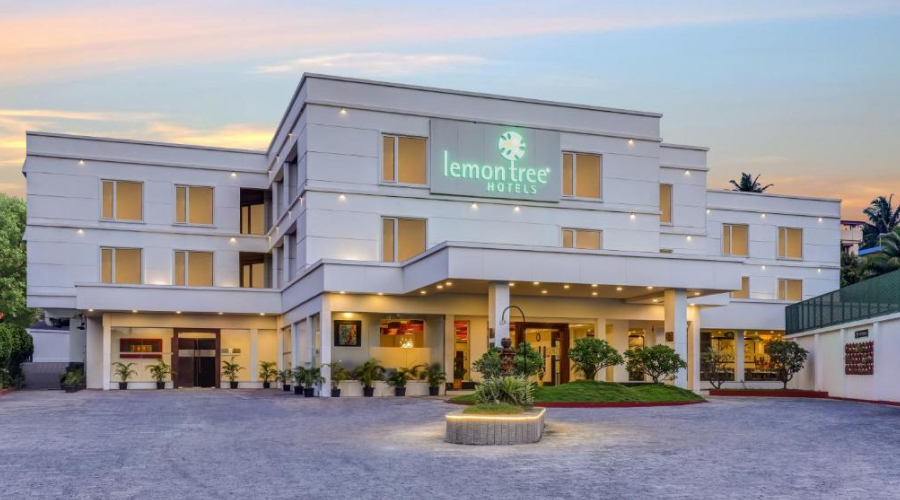 If you are planning a trip to Andaman Islands with friends or family, the Lemon Tree Hotel in Port Blair is a great choice for your stay. First, let's talk about cost. Lemon Tree Hotel manages to be both affordable and comfortable. It won't empty your pockets and offers all the necessary amenities for a pleasant stay. This makes it a great option for travellers who want to keep their spending in check without compromising on quality.
Next, the hotel's location is a major plus. It's near the airport, so you don't have to worry about long commutes or waiting times. You can check-in quickly, drop off your bags, and start exploring the magical Andaman Islands right away!
The hotel also scores well in terms of room size, offering spacious accommodations perfect for groups. You won't feel cramped here, with everyone having enough room to relax. Also, don't miss out on the complimentary breakfast. It caters to a variety of tastes, providing a wonderful opportunity to gather with your group each morning and try everything from Continental to Vegetarian, Halal and Asian dishes.
Finally, the on-site Citrus Café is a highlight. It serves a range of Indian, Continental, pan-Asian, and coastal dishes. This makes it perfect for groups who enjoy sharing delicious meals and trying new flavours together.
In a nutshell, the Lemon Tree Hotel in Port Blair is an excellent choice for groups looking for adventure or families wanting to create lasting memories. With comfortable accommodations, and a convenient location, it meets all the key requirements for a memorable group holiday in Andaman. Enjoy your stay and the excitement of discovering the wonders of this tropical paradise together!
| | |
| --- | --- |
| Address | Lamba Line Opp. Airport Exit Gate, Jungli Ghat, Port Blair, South Andaman Island 744103, India |
| Price | ₹ 9526/- per night |
WelcomHotel, Port Blair
If you're planning a luxury getaway to the beautiful Andaman Islands, consider the WelcomHotel Port Blair. This hotel offers a wonderful space for couples looking for a romantic break. It is considered one of the best hotels in Andaman for a honeymoon.
When you enter the climate-controlled rooms, you'll find a comfortable and well-appointed space. Each room features a cosy seating area and private bathroom with free toiletries and a rejuvenating shower. Some rooms even include extras like a flat-screen cable TV, a safe, a coffee machine, and a refrigerator for an even more indulgent stay.
Located on Marine Hill, Port Blair, the WelcomHotel by ITC Hotels, Bay Island, is only 4.5 km from Veer Savarkar Airport, making it easily accessible. This high-end property is committed to providing outstanding service. It features a helpful travel desk to aid in your sightseeing plans and a 24-hour front desk to meet your needs at any hour.
The dining options at the hotel are also notable. The on-site WelcomCafe Bay Leaf restaurant serves fresh seafood and a blend of Indian, Chinese, and European dishes. And for those who enjoy a good drink, the Swizzle Bar provides a broad selection of Indian and imported spirits.
So, if you're looking to indulge in a luxury vacation with your significant other, WelcomHotel Port Blair is the ideal destination. Enjoy romantic moments, taste exquisite food, and create cherished memories in this stunning hotel. Your perfect Andaman holiday is just a reservation away!
| | |
| --- | --- |
| Address | Marine Hill, Port Blair, Andaman and Nicobar Islands 744101, India |
| Price | INR 9500 + Taxes for 2 Adults |
Symphony Summer Sands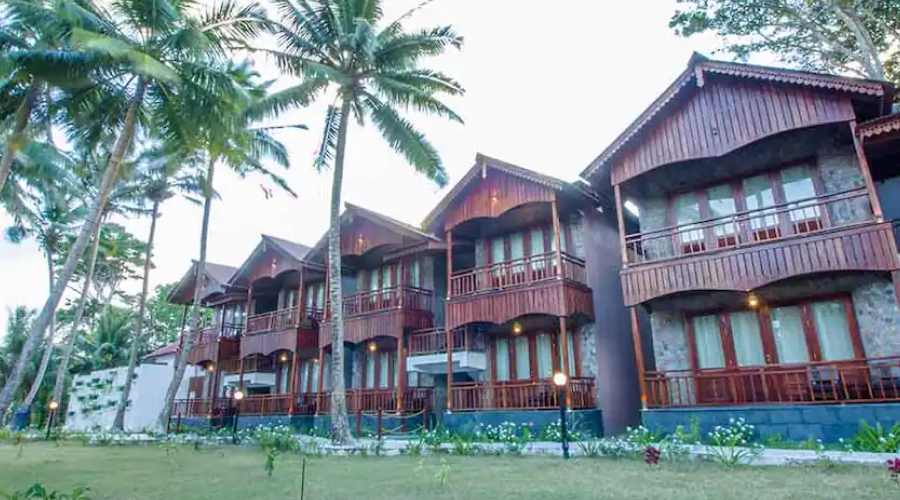 The Symphony Summer Sands on Neil Island offers a blend of 5-star luxury and a true taste of paradise. It is truly one of the best hotels in Neil Island. Located amidst the serene beauty of Ram Nagar Beach, this upscale property invites you to a sublime getaway.
From your arrival, you'll enjoy top-notch amenities designed to spoil and pamper. There's an on-site bar, room service for convenience, and a 24-hour front desk to cater to your needs anytime. Symphony Summer Sands presents itself as one of the best hotels in Andaman with a private pool. Enjoy a refreshing dip in the outdoor pool, stay connected with complimentary WiFi, and benefit from free private parking for a hassle-free stay.
Start your day with a delicious breakfast that includes American, Asian, and even vegan options, preparing you for the exciting day ahead. Food lovers will be pleased with the resort's restaurant, which serves a variety of American, Indian, and Asian cuisine. For guests with dietary restrictions, vegetarian, dairy-free, and halal options are happily provided.
In terms of sightseeing, you'll find popular tourist spots like Laxmanpur Beach, Howrah Bridge, Bharatpur Beach, and Sitapur Beach within easy reach. The nearby restaurants such as Vibes And Dives, Dugong, Garden View Restaurant, and Blue Sea are ready to tickle your taste buds.
Symphony Summer Sands is a top pick for travellers looking for a touch of paradise on Neil Island. Immerse yourself in luxury, treat yourself to delicious food, and discover the stunning beauty of this hidden gem in the Andaman archipelago.
| | |
| --- | --- |
| Address | Ram Nagar Beach, Ram Nagar, Neil Island 744104 India |
| Price | 5700/- per night |
TSG Emerald View Hotel and Spa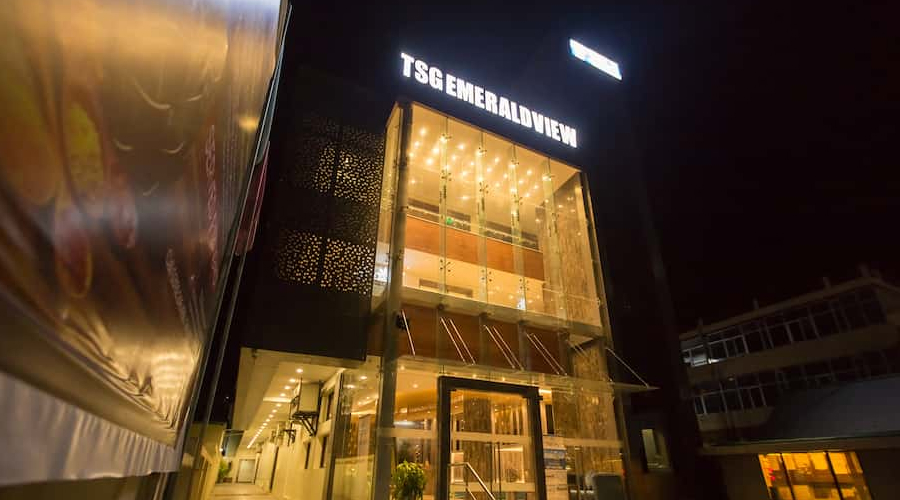 Check out TSG Emerald View Hotel and Spa in Port Blair! It's an excellent choice for your Andaman vacation, especially if you're looking for a perfect mix of affordability and convenience.
Imagine being welcomed by top-notch hospitality focused on making your stay unforgettable. At TSG Emerald View, guests are the priority, and from the moment you step inside, you'll feel valued and respected. The hotel's strategic location is another key highlight. Located near a variety of excellent restaurants and attractions, it offers a convenient base for exploring the many delights of Port Blair.
The guest rooms are a cosy haven equipped with everything you need to feel at home. Think of a comfortable bed for restful sleep, a flat-screen TV for entertainment, and air conditioning to fend off the tropical heat. What's more, complimentary internet access is available, so you can stay connected and easily share your holiday adventures with loved ones.
After a day of island exploration, you're likely to have worked up an appetite. Fortunately, the hotel serves a delicious breakfast to start your day right. Plus, with free parking available, you can explore the island without any stress.
| | |
| --- | --- |
| Address | 25/1 Ma Rd Phoenix Bay, Port Blair, South Andaman Island 744102 India |
| Price | ₹2596/- per night |
Jalakara, Havelock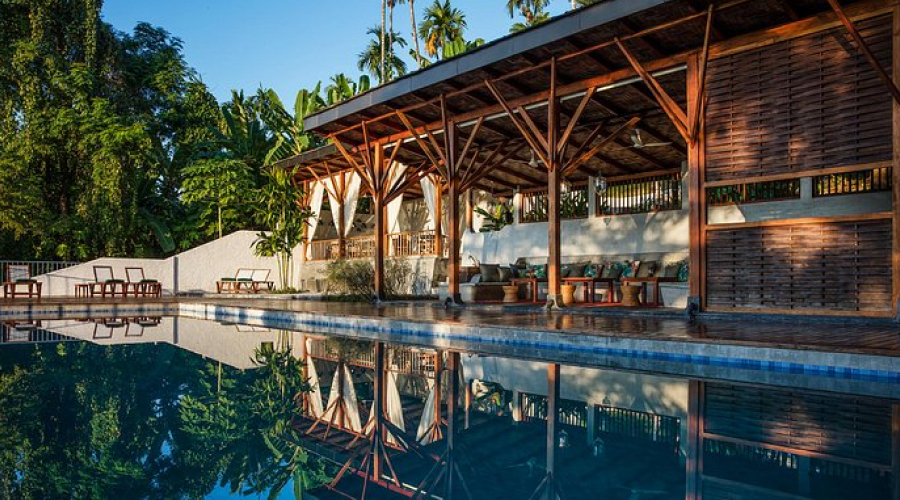 For those yearning for an idyllic, eco-chic retreat away from the incessant hum of digital life, Jalakara is the sanctuary you seek. Unplug, unwind, and craft unforgettable memories at this serene oasis nestled on the captivating Havelock Island.
Hailed as one of the best hotels in Havelock, Andaman, Jalakara is not merely a place; it's an escape – a sublime refuge. Deriving its name from the Sanskrit term for 'fountain,' this boutique hotel and private villa blend promise to sequester you from the cacophony of the modern world, facilitating a reconnection with your inner essence.
The hotel fosters a home-like ambiance, encouraging meaningful social interactions through board games and engaging activities, taking you back to simpler times. Jalakara provides an intimate tropical island refuge. You can delight in their enchanting garden, enjoy the cool sensations of the infinity pool, and partake in a small, well-curated wellness programme designed to refresh you during your stay.
Facilities include an outdoor pool, a relaxing spa, and fun activities such as badminton, table tennis, and daily yoga classes. To enhance your experience of this tropical paradise, they serve delicious organic cuisine.If you're ready to embrace a slower pace, connect deeply with your environment, and create unforgettable memories, Jalakara is waiting for you. It's time to forget about the clock, disconnect from WiFi, and rediscover yourself.
| | |
| --- | --- |
| Address | Village number 4, Havelock Island, Andaman and Nicobar Islands, India. |
| Price | ₹ 13,950/- |
Emerald Gecko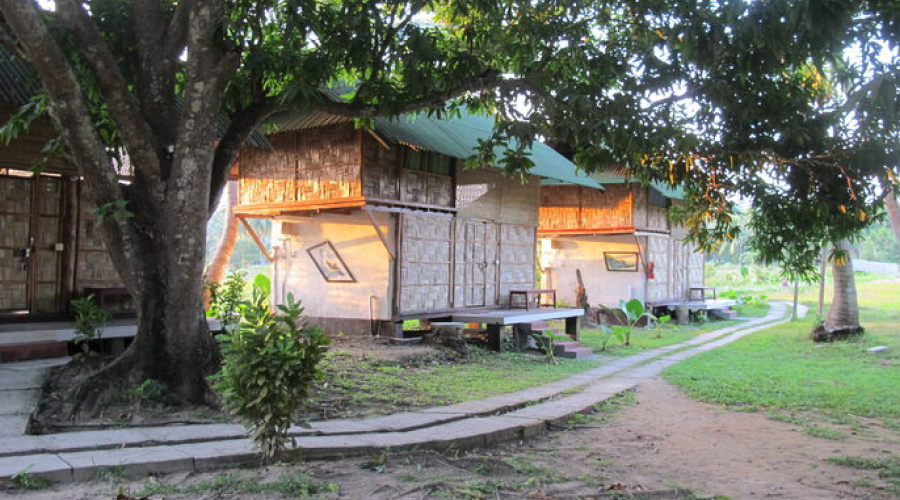 Next on the list of best hotels in Andaman is Emerald Gecko, a serene retreat worth considering for your stay in the mesmerising Andaman Islands.
Starting with its stunning location, the resort is nestled in a quiet corner of the charming Neil Island, just a few steps away from the breathtaking Sitapur Beach. Imagine waking up to the calming rhythm of gentle waves and feeling the cool, soft sand under your feet – a real treat for any nature lover.
Speaking of atmosphere, Emerald Gecko exudes a quaint, island charm that immediately transports you to a peaceful world. Say goodbye to the constant noise of TVs and ringing phones – here, the emphasis is on disconnecting from the digital world and immersing yourself in the beauty of nature. It's like a digital detox in a slice of paradise!
And there's more to tempt you! The resort's multi-cuisine restaurant, Fat Martin, is a haven for food lovers. Picture yourself enjoying tasty continental dishes at affordable prices. Delicious!
So, if you're searching for a heavenly hideaway in the Andaman Islands, look no further than Emerald Gecko. Combining nature, comfort, and affordability, it's a place where you can relax, refresh, and create unforgettable memories. Don't let this piece of paradise slip by – book your stay at Emerald Gecko now and get ready for an unforgettable island adventure!
| | |
| --- | --- |
| Address | Village #5 Sitapur, Neil Island 744104 India |
| Price | INR 2464/- per night |
Hotel Sand Heaven
Hotel Sand Heaven, a property that effortlessly marries convenience with connectivity. Boasting complimentary Wi-Fi access in all rooms, you can effortlessly stay connected with your cherished ones, sharing your thrilling Andaman escapades in real-time. Moreover, its favourable location in the heart of Port Blair situated you conveniently close to numerous attractions and a myriad of delectable dining options, ensuring you'll never be short of exciting discoveries and culinary delights.
A salient feature of Hotel Sand Heaven is its 4.5-star rating. Prepare to be enveloped in an ambiance of indulgence and luxury, where top-tier services and amenities are the order of the day.While you're in this idyllic corner of the world, it would be remiss to bypass a visit to the iconic Radhanagar Beach, also known as Beach No. 7. This renowned locale will undoubtedly captivate you with its breathtaking beauty.
To add an extra layer of pleasure to your stay, the hotel houses an onsite restaurant serving scrumptious meals. Visualise spoiling yourself with a sumptuous feast following a day filled with adventure. It's the quintessential way to unwind and craft precious memories.
Why hesitate? Give your Andaman journey an exceptional start by choosing Hotel Sand Heaven as your abode. Revel in the beauty of Andaman, soak up the luxury, and craft unforgettable memories throughout your stay. Secure your booking now and prepare for an incredible voyage on South Andaman Island!
| | |
| --- | --- |
| Address | Lamba Line Opposite Veer Savarkar International Airport, Port Blair, South Andaman Island 744103 India |
| Price | ₹3,789/- per night |
Coral Reef Hotel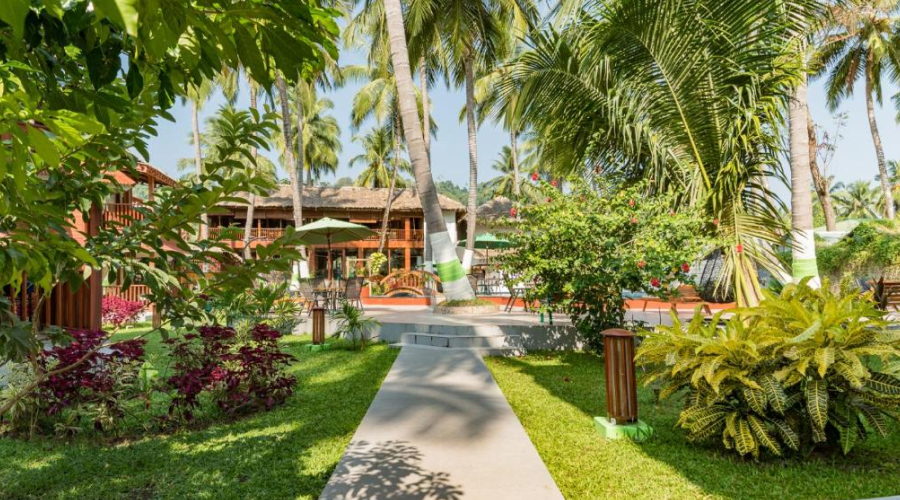 Next up is Coral Reef Hotel – a sanctuary of comfort and luxury nestled in Port Blair, the heart of Andaman and Nicobar Islands. Upon setting foot into this haven, you will be welcomed with unparalleled service and warmth that instantly puts you at ease. Regardless of your purpose of visit – be it corporate or leisure – Coral Reef caters to your needs with absolute finesse.
The hotel's well-appointed rooms serve as your personal retreat, offering an idyllic space to unwind after a day packed with adventure. The luxurious rooms come with a host of top-tier amenities, including an in-house health centre to revitalise your senses, and airport pick-up and drop-off services that ensure hassle-free transit.
The cherry on top is Coral Reef's strategic location. Situated a mere 4 km from Veer Savarkar International Airport, your journey to and from the hotel is incredibly swift, allowing you to kick-start your vacation or catch your flight back home with utmost ease. What's more, being at the heart of the city, most popular attractions in Port Blair are just within a 25 km radius from the hotel, making sightseeing an absolute breeze.
| | |
| --- | --- |
| Address | Bhathu Basti, Port Blair, Andaman and Nicobar Islands 744105 |
| Price | ₹4,479/- per night |
SeaShell Coral Cove
SeaShell Coral Cove is one of the charming 4-star hotels in Andaman nestled amidst the lush beauty of Port Blair. Prepare yourself for a stay that is equal parts relaxing and exciting, set against the backdrop of Andaman's vibrant greenery.
For families with children, SeaShell Coral Cove is nothing short of a paradise. The resort boasts a designated play area where the little ones can engage in fun-filled activities while the adults indulge in their own leisurely pursuits.
Speaking of leisure, picture yourself lounging on the resort's sprawling green lawn, soaking in the beauty of the outdoors, or engaging in refreshing sports activities. It's the perfect oasis of tranquillity that lets you connect with the mesmerising natural beauty of South Andaman Island.
But what about food, you ask? SeaShell Coral Cove has that sorted too! The resort houses an in-house restaurant that serves a plethora of mouth-watering dishes in a cosy, inviting setting. And for those times when you wish to dine in the privacy of your room, the efficient room service has got you covered.
At SeaShell Coral Cove, every guest is an adventurer. That's why they offer a range of tours and treks that allow you to truly experience the essence of Andaman – from exploring the gorgeous landscapes to taking a plunge into the sparkling turquoise waters.
| | |
| --- | --- |
| Address | Minnie Bay School Line, Port Blair, South Andaman Island 744103 India |
| Price | ₹4,665/- per night |
Hotel Horizon Hues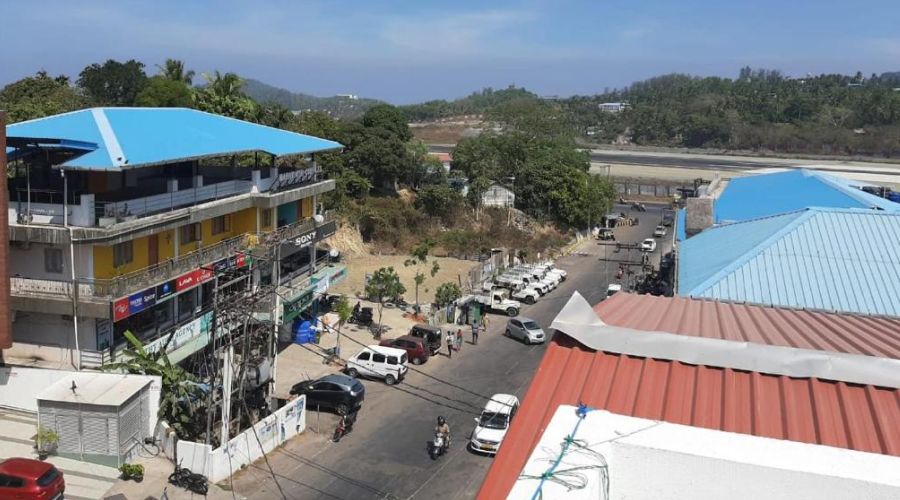 Hotel Horizon Hues, a haven of comfort and convenience in Port Blair, offering you top-notch amenities at a pocket-friendly price. The highlight of your stay would be their open terrace that grants you unobstructed views of the bustling airport during the day and a star-studded sky at night. This cosy spot is perfect for unwinding and soaking in the natural splendour of the island.
But they offer more than just your accommodation. Hotel Horizon Hues, aims to enhance your Andaman experience. Allow us to assist you in planning your itinerary, complete with vehicle rentals, so you can navigate this paradise island with ease and comfort.
Let's talk about the conveniences that will make your stay even more delightful. Here you can enjoy amenities like free parking, stay connected with our complimentary high-speed Wi-Fi, and start your day with a nutritious complimentary breakfast.
For the busy bees, a fully-equipped business centre that provides internet access, photocopying, and fax services – everything you need to stay on top of your work while you're away from the office.
When it comes to tourist attractions in Andaman , we've got you covered! We are strategically located near major tourist hotspots like the Samudrika Marine Museum, Elephant Beach, and the historic Ross Island and Cellular Jail.
| | |
| --- | --- |
| Address | Old Pahargaon, Polytechnic Road Post Dollygunj, Near Canara Bank, Port Blair, South Andaman Island 744103 India |
| Price | ₹2602/- per night |
Wild Orchid, Havelock Island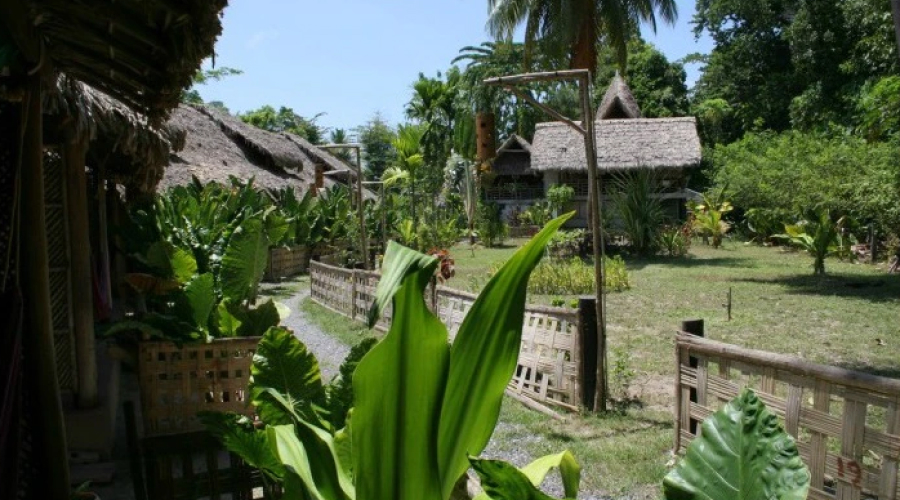 If you're planning an affordable trip to the Andaman Islands and looking for a budget option, consider Wild Orchid. It is one the best 3-star hotels in Havelock and could be the perfect spot for your stay. It's a place where comfort, convenience, and the beauty of nature blend seamlessly. Let us share with you some of the exciting features this charming hotel has to offer.
Firstly, for those of you who like to keep your social feeds updated or simply stay connected with loved ones during your travels, Wild Orchid offers free Wi-Fi. So, you can share your breathtaking Andaman adventure in real-time. Also, if you're travelling by car, you'll appreciate the free private parking available at the hotel.
Starting your day with a hearty breakfast is key, especially when you're gearing up for a day full of adventures. At Wild Orchid, you can enjoy a delicious continental breakfast every morning, providing the perfect fuel for your day. Whether you're planning a short getaway or a more extended exploration of Havelock Island, Wild Orchid caters to your needs, offering a comfortable base from which you can discover all the island's gems.
Speaking of exploration, Havelock Island is a paradise for water lovers. Dive into the azure waters for a snorkelling or diving adventure and experience the island's vibrant marine life. If you'd rather explore the land, the hotel offers a car rental service, making it easy to discover the island's hidden treasures.
After a day of adventure, you might find yourself with a hefty appetite. In that case, local restaurants like Full Moon Cafe, Fat Martini, Anju Coco, and Red Snapper are nearby, each offering a mouth-watering culinary experience.
| | |
| --- | --- |
| Address | Vijay Nagar Beach, No. 5, Havelock Island, Andaman and Nicobar Islands 744211, India |
| Price | ₹4,900/- per night |
Hotel Bell Elite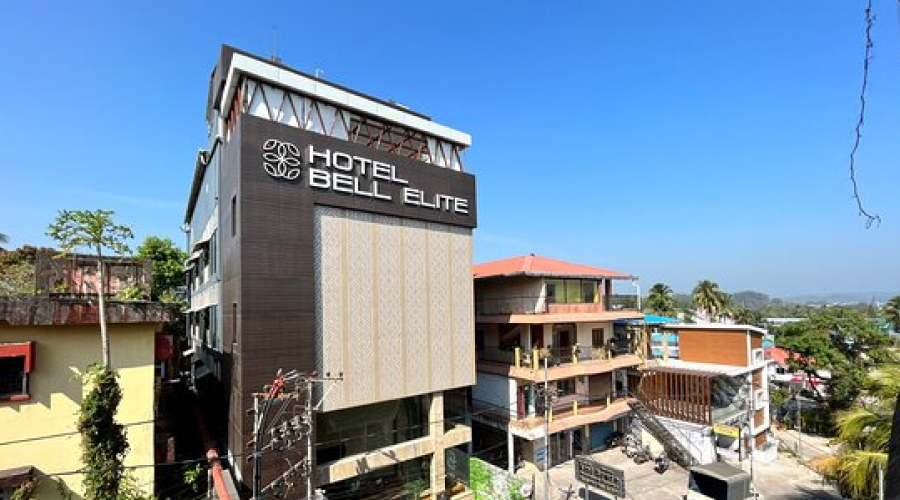 If you're planning a trip to South Andaman Island and looking for luxurious accommodation with unparalleled service, look no further than Hotel Bell Elite. Combining contemporary elegance with exceptional service, this hotel promises a stay that's both comfortable and unforgettable.
As you step into Hotel Bell Elite, you're greeted by sumptuous interiors and stylish décor that set the stage for an extraordinary stay. This establishment prides itself on its top-notch service, going the extra mile to cater to your needs even before you express them – a level of hospitality that promises to impress.
One of the standout features of Hotel Bell Elite is its commitment to offering high-quality service, great value, and superior customer care. Luxury and elegance take centre stage at this hotel, with its new-age amenities designed to meet your every need. The team at Hotel Bell Elite prides itself on its innovative offerings that set it apart from the competition. And as a responsible luxury hotel, their benchmarked products and services are infused with the essence of the beautiful South Andaman Island.
The hotel offers numerous amenities to enhance your stay. Enjoy the convenience of concierge services, contactless check-in/out, and a currency exchange service. Stay connected with free Wi-Fi throughout the hotel, and kickstart your day with a complimentary breakfast. What's more, they offer Kosher and Halal certified dining options, catering to various dietary needs and preferences.
Conveniently located near some of Port Blair's top attractions, Hotel Bell Elite is an ideal base for your exploration. Whether you're interested in the marine life showcased at the Samudrika Marine Museum, the beautiful Elephant Beach, or the historic Ross Island and Cellular Jail, there's plenty to explore and experience.
If you're in search of a hotel that offers a mix of luxury, elegance, and exceptional service, Hotel Bell Elite is the perfect choice for you. Book your stay now and prepare for an unforgettable, first-class experience on South Andaman Island.
| | |
| --- | --- |
| Address | Survey No. 59/1/4, Gurudwara Lane Next to BSNL Quarters, Port Blair, South Andaman Island 744101 India |
| Price | ₹2759/- per night |
FAQs
Q1. Are there budget-friendly hotels available in Andaman for travellers on a tight budget?
Yes, Andaman offers a variety of budget-friendly hotels and guesthouses, making it accessible to travellers on a tight budget. You can find affordable accommodations in popular areas like Port Blair, Havelock (Swaraj Dweep), and Neil (Shaheed Dweep). These budget options often provide comfortable rooms and basic amenities, allowing you to experience the beauty of the islands without breaking the bank. It is advisable to book in advance, especially during peak tourist seasons, to secure the best rates and availability.
Q2. Which island is best in Andaman to stay?
Andaman comprises several stunning islands, each with its unique charm. Havelock Island (now known as Swaraj Dweep) and Neil Island (now known as Shaheed Dweep) are popular choices among travellers for their captivating beaches and tranquil ambiance. Both offer a range of accommodation options to suit different preferences.
Q3. Which is the best hotel in Andaman for a honeymoon?
For a romantic honeymoon experience, numerous hotels in Andaman offer exquisite settings and special amenities. Some top choices include luxury hotels like Lemon Tree hotel and WelcomHotel, where you can savour the magical moments of togetherness amidst breathtaking landscapes.
Q4. Which is better, Neil or Havelock?
The preference between Neil and Havelock depends on your travel preferences. Havelock (Swaraj Dweep) is larger and more developed with a wider range of activities and amenities. Neil (Shaheed Dweep) offers a more laid-back, secluded atmosphere with serene beaches, making it ideal for those seeking a quieter escape.
Q5. Which is the best hotel in Andaman for a family vacation?
Andaman has several family-friendly hotels catering to different needs. Some excellent options include SeaShell Coral Cove, Coral Reef in Neil, and Hotel Sand Heaven, each providing comfortable stays and facilities suitable for families.
Q6. Which island is closest to Port Blair?
Ross Island is the closest island to Port Blair, located just a short boat ride away from the capital city. Once the administrative headquarters during the British era, Ross Island now stands as a historical landmark, allowing visitors to explore its ruins and lush greenery.
Q7. Which month is best for Andaman travel?
The best time to visit Andaman is from November to April when the weather is pleasant, and the sea is calm. During these months, you can enjoy water activities like snorkelling, scuba diving, and beach outings with minimal chances of rainfall.
Q8. How many days in Andaman is enough?
The ideal duration for an Andaman trip depends on your itinerary and interests. A minimum of 5 to 7 days is recommended to explore the key islands like Port Blair, Havelock, and Neil comfortably and experience the natural beauty and adventure Andaman has to offer.
Q9. Which month is cheapest to visit Andaman?
The offseason, generally from May to September, is considered the cheapest time to visit Andaman. During this period, you may find discounted rates on hotels and activities. However, it's essential to note that the weather can be rainy and some water activities may be limited due to rough sea conditions.
Q10. Which hotel is perfect for a kid-friendly vacation in Andaman?
For a kid-friendly vacation in Andaman, SeaShell Coral Cove stands out as an excellent choice. This family-oriented resort offers a host of amenities and activities tailored to cater to the needs and preferences of both parents and children, ensuring a delightful and memorable stay for all.