May in Andaman is a good time for wildlife enthusiasts and birdwatchers who can freely roam around in the lush green rainforests watching the many bird species who are usually very active during this month of April. May is considered to fall in the peak of tourist season in the Andaman Islands. The weather is favourable, and it's a popular time for travellers. But it never gets as crowded as the winter months, so you can expect a relatively secluded and less hurried experience.
Corbyn's Cove Beach (Port Blair):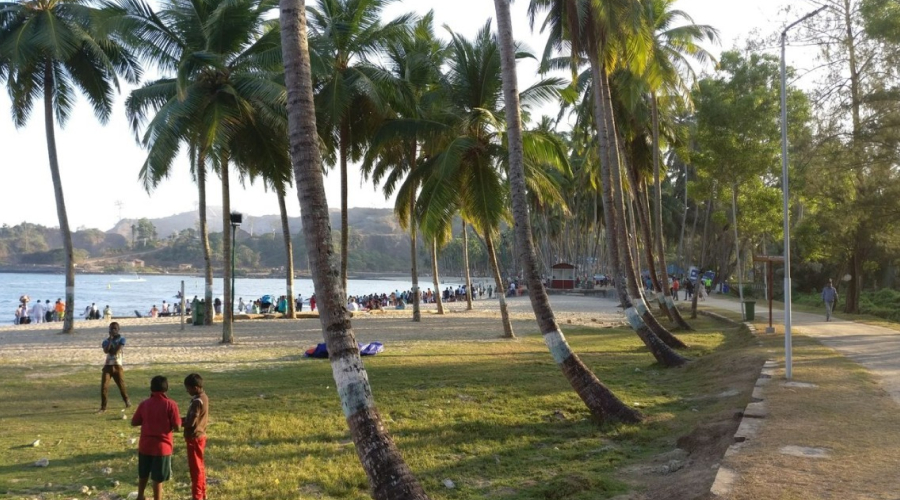 After you land in Port Blair and dream of having a memorable vacation in this remote archipelago adorning the Indian Ocean, you can have your first taste of beach beauty by visiting the Corbyn's Cove Beach. Corbyn's Cove Beach being one of the closest beaches to Port Blair makes it a popular spot for city dwellers and tourists alike. It's a great place for water sports and offers beautiful sunset views. Have a quiet walk along the sandy beach and rest in the shady cove on the seats arranged methodically at uniform intervals to enjoy a restful beach scenery. This beach is ideal to unwind. You can see the families playing amidst the incessant waves breaking in white foamy layers on the shores. The younger and more enthusiastic tourists are found enjoying the various water spots and beach activities. There are neat and clean changing rooms where you can freshen up and change after your sea activities. The road leading towards Corbyn's Cove Beach is also very picturesque. The beach is lined with palm trees which make it look intensely picture perfect.
You can check our customized Andaman Tour Packages
North Bay Island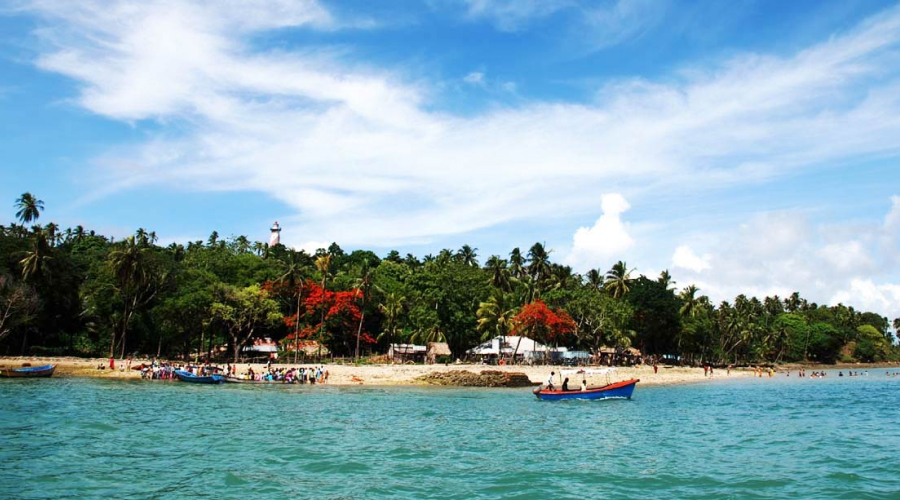 North Bay Island offers a glimpse of the beauty of the underwater world with its vibrant coral reefs teaming with a million sea creatures, merrily swimming by. This island is one of the very popular islands of Andaman and Nicobar Islands, especially known for the varied adventurous and playful water sports options. It is a treat to the eyes for nature lovers too as it is extremely picturesque and serene. North Bay Island is one of the smaller islands in the Andaman and Nicobar archipelago and is located near Port Blair, the capital of the Andaman and Nicobar Islands. It's easily accessible from Port Blair, which makes it a common day-trip destination for tourists landing in Port Blair. It is included in almost all itineraries of Andaman and Nicobar tours and travel. Among the water sports and underwater activities, snorkelling, scuba diving and sea walking are very popular here. Another fun activity meant for everyone who does not want to get wet but yet wants to be a part of the undersea magical world is the glass-bottom boat ride. It is safe and a truly magical experience.
Rangat Island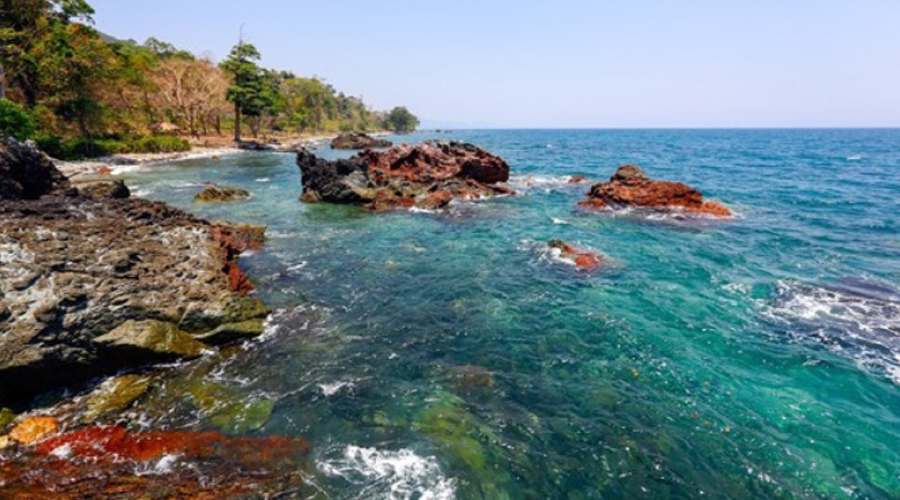 May can be considered a good month for island hopping. As you travel across the wide open seas in the high speed ferries, you can enjoy the pleasant sea breezes and reach the remote island breezily and comfortably all the while enjoying the beauty and pleasant weather. Rangat is picturesque and is also one of the major settlements on Middle Andaman Island. It is known for its natural beauty, tranquil beaches and lush tropical landscapes. The Amkunj Beach and Cuthbert Bay Beach of Rangat Island are immensely secluded and alluring. Rangat is surrounded by lush green mangrove forests and exploring the greenery and its unique ecosystem through boat rides through the intriguing mangroves is a popular adventure. The Cuthbert Bay Wildlife Sanctuary is located near Rangat. It is the home to a variety of bird species, including the rare and endangered Nicobar megapode. This place is a favourite haunt of birdwatchers and nature enthusiasts who often visit the sanctuary to study the avian biodiversity. Water-based activities like snorkelling, scuba diving and fishing are quite popular in Rangat.
Vijaynagar Beach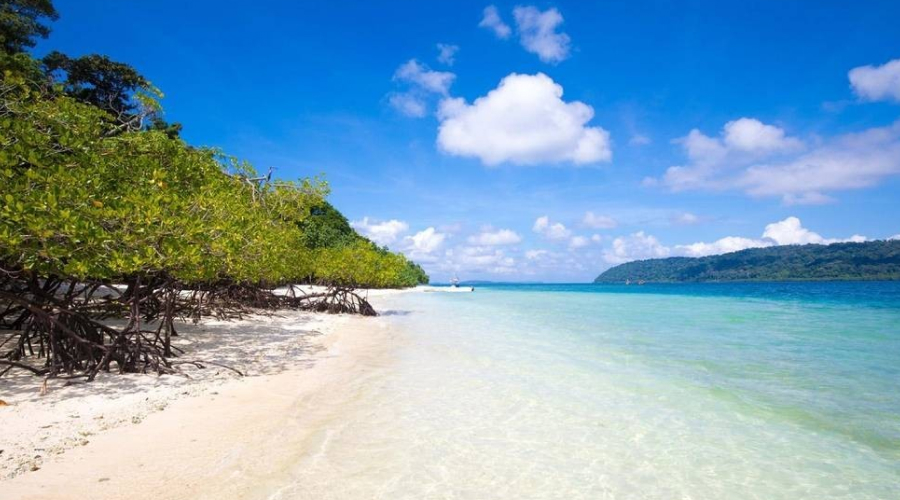 Vijaynagar Beach is perfect for tourists who seek a peaceful beach vacation in the middle of unspoiled locations. It is a perfect place to unwind, enjoy the natural surroundings and escape from the extremely stressful and routine city life. This beach is perfect for the ones who love the warm sea and all beach activities. It is also very alluring for nature lovers. There are a wonderful variety of activities that you can enjoy in Vijay Nagar Beach. Starting from swimming, bird watching and sunbathing to wildlife photography, fishing and trekking — it is all there in Vijaynagar Beach. This clean beach is located on the eastern side of Havelock island, which is a must visit in any short or long Andaman trip. Some good hotels are to be found on this beach. The ocean water here on this beach is mesmerizing turquoise blue and breathtakingly charming. Make your vacation complete with plenty of greenery around, some beautiful views of the sand and sun and plenty of leisurely walks along the pristine beach.
Sitapur Beach
Sitapur Beach is a famed beach in Neil Island, the allure of which drives tourists to this small but fascinating island in the Andaman Archipelago. This beach is popularly known as beach no. 5. Local islanders opine that this is the quietest beach on the island. This factor makes it ideal for solo beach vacations and is also very apt for honeymoon couples and newlyweds. This beach shall provide the much needed solace from the busy modern day city life. Sip some fresh coconut water and lazily watch the rolling seas. Sitapur Beach is famous for its picturesque sunrises. The beach offers white sands, azure blue waters and lush green surroundings, making it an ideal spot for relaxation and enjoying the natural beauty of the island. The shoreline is quite long and invites a leisurely stroll. Swim, beach bathe and soak the serene atmosphere. The quietness is the beach's charm.
Sir Hugh Rose Island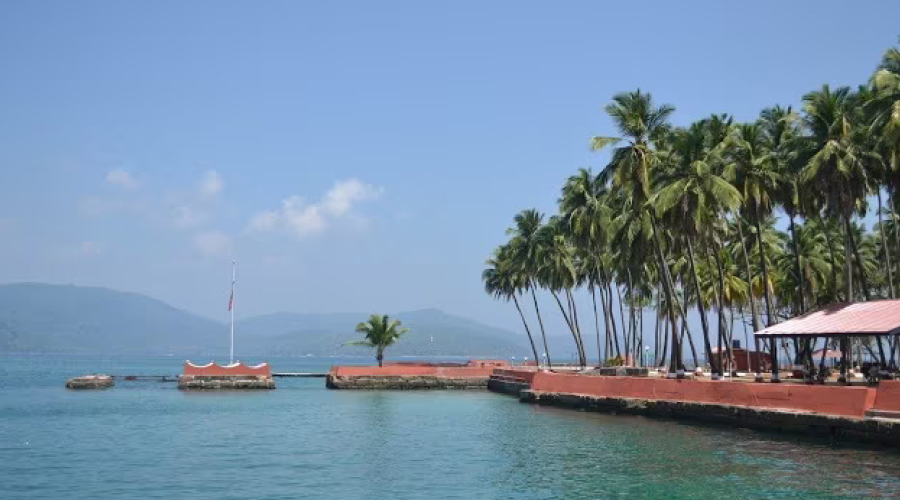 Sir Hugh Rose Island is a protected marine sanctuary located right at the tip of Neil Island. It has a unique charm and portrays the surreal beauty of picturesque vistas and fascinating biodiversity. Sir Hugh Rose Island is a part of the enchanting archipelago and it attracts tourists with its stunning natural beauty. The colourful coral reefs surrounding the island is the home to diverse fish species and a host of other marine underwater life. This location is ideal for water adventures such as snorkelling and diving, allowing visitors to explore the vibrant underwater world. Marine life in the sanctuary of Sir Hugh Rose Island is carefully preserved to maintain the unique and delicate balance in the ecosystem in and around the Andaman and Nicobar Islands. These areas play an important role in scientific research and ecological conservation efforts.
Visit Andaman in May to enjoy the stunning natural beauty, secluded and mesmerizing beaches and for watching the fascinating and diverse marine biodiversity from up close. The warm waters and plentiful sunshine will help make wonderful memories.
FAQs
Can we visit Andaman in May?
The month of May falls into the category of the best time to visit Andaman and Nicobar Islands that starts from October. Expect a little bit of rain and a warm and a bit humid climate in May. The archipelago of Andaman enjoys a moderate climate mostly throughout the year. For a memorable holiday experience, plan your Andaman tour between the months of October and May.
Does Andaman get rain in May?
Monsoon arrives in Andaman in mid-May, and by the end of the month of May rains start that continue through June and July. The major monsoon months in Andaman are June, July, August and September. During these months Andaman receives heavy rainfall.
Can we visit Port Blair in May?
Port Blair as a part of Andaman has two primary seasons, the dry season that extends from October to May and the wet season from June to September. The months from October to May fall in the best season category to visit Port Blair, like the rest of Andaman. The temperature, rainfall and humidity remain lower than the rest of the year.
What was the climate in Andaman in May 2024?
Andaman & Nicobar Islands have shown rainfall deficit as recorded as 138.3mm against the normal of 424.2mm between March and May this year, 2024. The month of May remained comparatively majorly drier than other years. That had a good tourism opportunity of course.
How many days in Andaman in May are enough?
A 5 Nights and 6 Days trip is best to cover the major sightseeing destinations and the best of Andaman to have a proper 'beach vacation' experience. On the other hand, a longer 9 Nights and 10 Days Andaman tour will give you time to explore the more enigmatic and fascinating and less trodden islands and enjoy all the exclusive water activities at leisure.
What temperature to expect in May at Andaman?
The temperature in Andaman and Nicobar in May ranges from 28.2°C to 26.1°C., which is not much variation and predominantly warm. Water temperature remains at about 30°C which is extremely pleasurable and comfortable to indulge in all kinds of water activities.
What is the weather like in Havelock in May?
The average temperature in Havelock in the month of May for any particular day ranges from a maximum of 20°C to a minimum of 7°C. Weather remains enjoyable and mildly cool with a gentle breeze that tourists enjoy immensely.