Port Blair located in South Andaman Island is an incredible and the happening capital city of Andaman and Nicobar Islands. It falls under the Indian territory in the middle of Bay of Bengal. Port Blair is of immense significance to the Andaman archipelago being the only point of connection to the outside world. Port Blair has the Veer Savarkar Airport that connects Andaman to all the major cities across the globe via domestic and international flights. It has various places of intense interests that charms and captivates the travellers pouring in to this famous vacation destination. Let us look at some of the most spectacular sightseeing spots of Port Blair that keep the visitors spellbound in a small island so many kilometres away from the main land.
Suggested Read: 52 Best Places to Visit in Andaman
Cellular Jail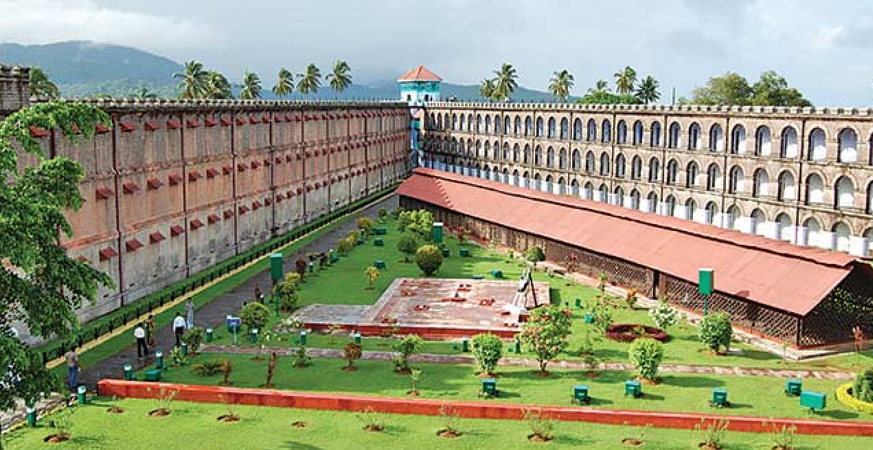 This is a harrowing premises replete with the sad tales of the tragic past of British rule in India, where the brave freedom fighters were imprisoned and tortured. It is sea-facing prison that was completed in 1906 and its dingy, narrow cells and corridors evoke pathos and shout and thousand tragic tale. In the evenings, there is a light and sound show that narrates the fascinating tale of the yesteryears.
Click here to check our customized Andaman Tour Packages
Samudrika Marine Museum
The beguiling Samudrika Marine Museum showcases a veritable display of a wide plethora of local marine life. The museum uncovers the history of the most primitive and ferocious tribal communities inhabiting this part of the earth for centuries, in complete isolation from the rest of the world. The museum also exhibits rare examples of corals, oysters, shells and marine life in general. The Samudrika Marine Museum enchants with its lively tribal murals and presents a gamut of information to observe and learn.
Aberdeen Bazar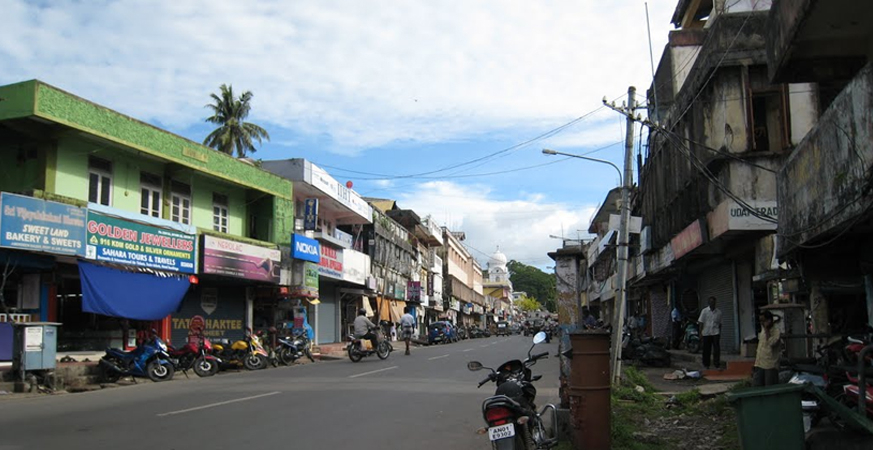 While at Andaman for a thrilling vacation or for a honeymoon trip, you would love to carry out some local shopping to carry back home lot of memories and also mementos for your friends and family. Aberdeen Bazar is the place to be for Andaman shopping. The major skillset of bargaining expertise will enable you to grab some best deals. There are simple road-side stalls selling exquisite handcrafted items made from shells and also some notable government emporiums. Some items for shopping from Aberdeen Bazaar are coloured fabrics, wood artefacts, junk jewellery, shell ornaments, Port Blair cotton T-shirts and much more. After a good shopping frenzy, enjoy a delicious lunch or dinner at the Annapurna Café, Ananda Multi-Cuisine Restaurant Anju Coco Resto or at the Lighthouse Residency located in the market area. The Sagarika Government Emporium is very well known for its immense collection of pearl jewellery, home decor accessories carved out from shells, coconut shell lampshades and bangles and impeccable paper mache tribal masks.
Port Blair Nightlife
Port Blair also has some of the best-of-breed entertainment hubs to colour your nights in the pleasant shades of happy entertainment. There are a number of remarkable luxury hotels that offer night-long entertainment comprising live bands and heady music along with a delectable mix of cocktails, lavish food spread, titillating seafood menu and gorgeous views of the wide open night sea. Some good venues to enjoy a throbbing nightlife are the Peerless Beach Resort, Sinclairs Bay View, Fortune Resort Bay Island, Corbyn's Cove and Hotel Shompen. Visit the Nico Bar for the unique experience of tasting your drinks served in coconut shells.
Suggested Read: Nightlife in Andaman, Your would not want to miss
Chidiya Tapu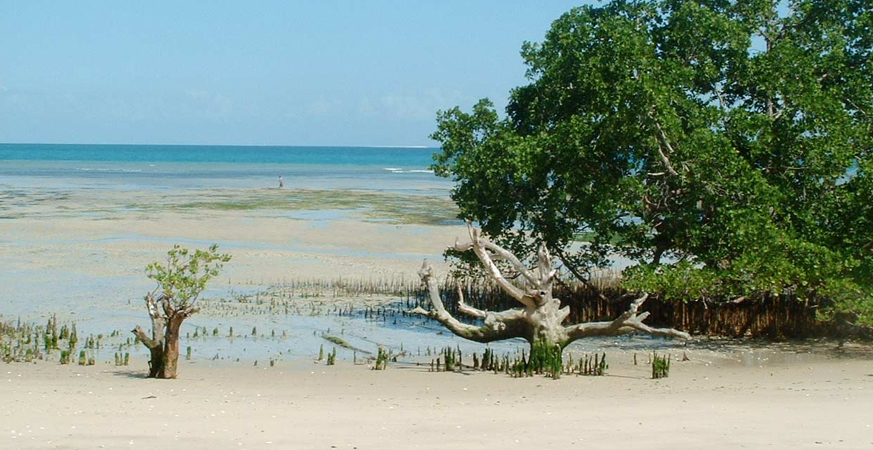 Chidiya Tapu will offer you the best ever sunset in Port Blair. Besides grand sunsets, Chidiya Tapu is also a good spot to go birdwatching. Chidiya Tapu remains a sheltered enclave that is surrounded by thick forests and dense mangroves. It is an island of the Andamans that is ideal for a wonderful trekking. It is a happy shelter for different kinds of birds that flock across from all over the globe. That in itself is a wondrous spectacle to witness. The best time to venture across Chidiya Tapu for birdwatching is early in the morning. It makes for a grand day trip stretching till the evening to enjoy the beautiful sunset.
Gandhi Park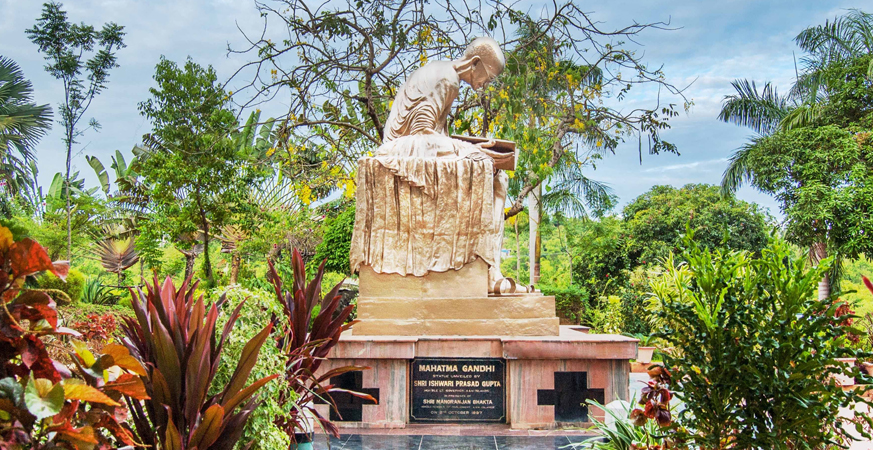 Gandhi Park is a beautiful park in Port Blair and contains a fair share of entertainment opportunities such as amusement rides, safe water sports and nature trail around a lake, manicured gardens, restaurants serving delicious cuisines such as pani puri stalls, ice cream carts and Chinese fast food stalls and historic remains such as a Japanese temple as well as a bunker. The historical Dilthaman Tank, which was the sole source of potable water for the entire island of Port Blair and the regions beyond, has been transformed to give the shape of Gandhi Park. It is open for public viewing all days of the week. The Gandhi Park today is a brilliant symbol of natural splendour and manmade excellence.
North Bay Island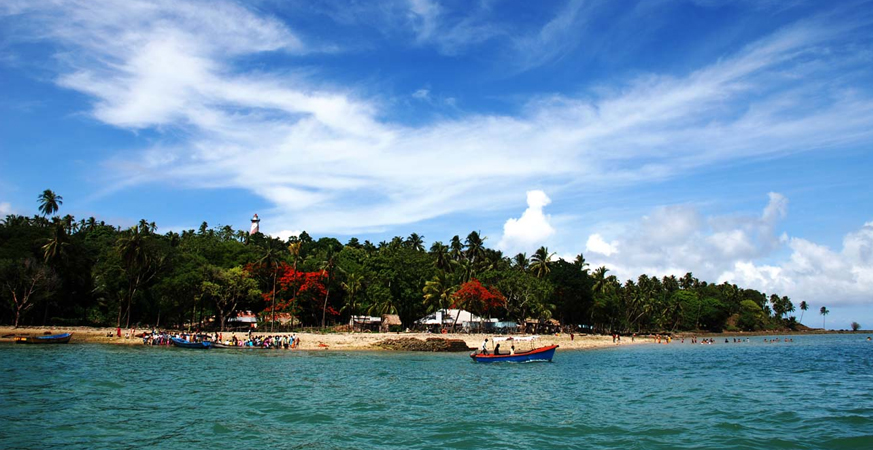 North Bay Island is another very popular day destination close to Port Blair and is frequently visited by tourists. North Bay Island is a must-visit destination while in Port Blair for an idyllic vacation in Andamans. There are amazing activities in North Bay Island, which is surrounded by some splendid and rich coral reefs and nurtures a wide variety of joyous water activities such as snorkelling, sea walking and scuba diving activities apart from glass bottom boat rides, banana boat rides, tube rides and more. There is also a semi-submarine diving underwater carrying passengers who enjoy the deep sea watch without even entering the ocean or getting wet. The day packages carrying tourists from Port Blair to North Bay also include visits to the enigmatic Viper Island and charming Ross Island. The boats leave from Phoenix Bay Jetty, Port Blair, before 9.00 a.m. for North Bay Island trip.
Ross Island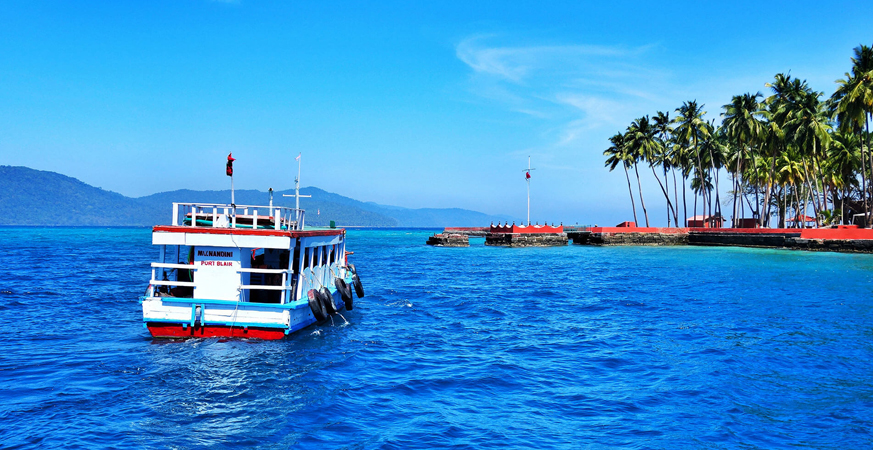 Ross Island is a charming destination to visit while in Andaman and Nicobar Islands. This island is known for its historical importance. It was the erstwhile headquarters of the British colony and one can visit the ruins of the buildings of British rule. The century old trees have invaded the remnants of British colonial buildings and the deep long roots and wild vines clinging around the Officer Quarters and dilapidated Church and bunkers are all a spectacle to watch. This old-world charm comprising the Chief Commissioner's house, the Cathedral and Graveyard along with the state-of-the-art light and sound show run by the Andaman tourism keep stories of the past live and fresh in human memories. The island abounds in charming animals such as like peacocks, deer squirrels and ducks that create a mesmerizing ambience coupled with the cool breeze and some spectacular view of the open blue seas lined by swaying coconut palms.