We all deserve a respite from the bustling routines of our daily lives. Breaking away from monotony and finding solace in the lap of Mother Nature is essential for our well-being. For many, this desire for escape leads to tropical paradises where the sun shines its brightest, the gushing waves of the sea leave you enthralled, and the natural beauty encapsulates and soothes the tired, worn-out mind
Now, the pivotal question arises: which South Asian tropical destination is ideal for an island getaway? Often, the choice, for many people, narrows down to the Maldives and the Andaman Islands. To demystify the conundrum and to help you guide your decision, we have compiled a comprehensive comparison of Andaman vs. Maldives. This guide will assist you in making an informed choice for your ultimate tropical island escapade.
So, without further ado, let's explore what makes these two locations perfect for an island holiday and determine which one aligns better with your travel plans.
Location and Culture: Andaman vs Maldives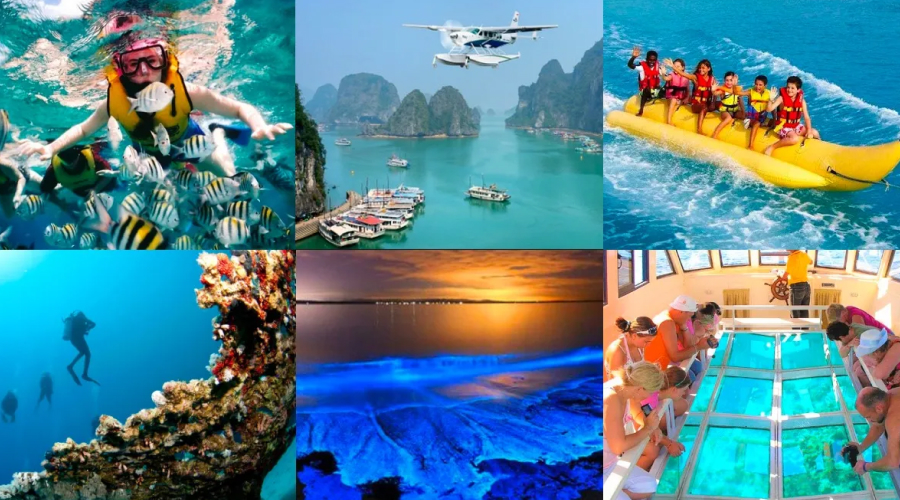 Andaman Islands:
The Andaman Islands are a union territory of India, nestled in the Bay of Bengal. This region boasts approximately 800 islets adorned with dense rain-fed, damp, and evergreen forests, as well as a diverse range of exotic flora and fauna. Among these islets, around 550 belong to the Andaman Group, with 28 of them being inhabited. On the inhabited islands, the population is diverse, consisting of mainland Indians and the native tribal communities of Andaman. The predominant languages are Hindi and Bengali, with a minority also speaking Tamil, Telugu, and even Malayalam.
Maldives:
The Republic of the Maldives, an island nation positioned in the Indian Ocean to the southwest of India and Sri Lanka, is characterised by its archipelagic structure. Comprising 1192 islands that span a distance of 871 kilometres, only 200 of these islands are actually inhabited. The primary language spoken in the Maldives is Dhivehi, which also holds the status of the national language. However, due to the massive influx of global tourists, English has become widely spoken, and the US dollar is accepted alongside the national currency, the Maldivian Rufiyaa.
Best Time to Visit Andaman vs Maldives
Both Andaman and Maldives feature a tropical climate, with average temperatures ranging from 23°C to 30°C in Andaman, and an annual mean temperature of around 28°C in Maldives.
In Andaman, there are no severe climate conditions apart from tropical storms and late summer rains during the monsoon season. Summers (March to May) offer warmth accompanied by pleasant sea breezes and around 80% humidity. However, the best time for visiting Andaman, catering to all types of tourists, falls between October and May. It's advisable to steer clear of the monsoon season (July to September) due to heavy tidal waves and the suspension of water activities.
In Maldives, March stands as the hottest month, yet it doesn't deter one from enjoying the beach. The prime period to explore the Maldives extends from November to April, conveniently avoiding the monsoon season.
Natural Landscape and Beauty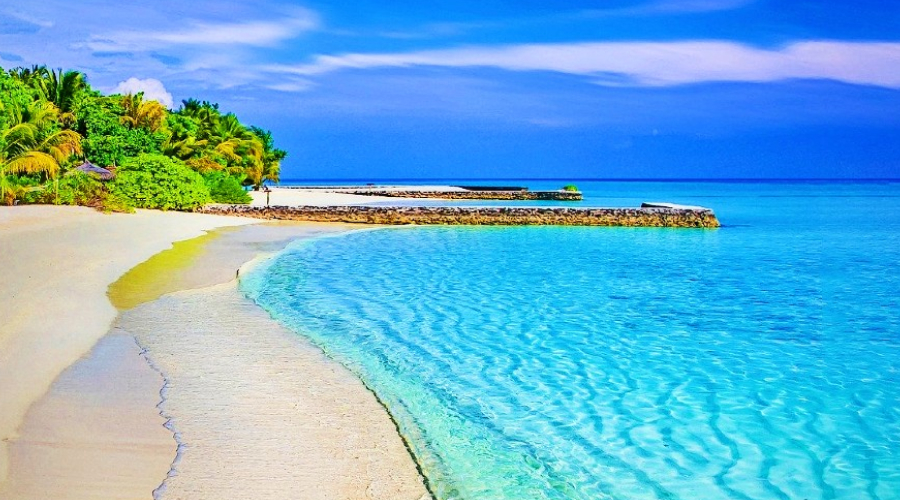 Andaman Islands:
The Andaman Islands are bestowed with the most beautiful bounties of nature. These encompass crystal-clear waters, verdant hills, lush forest canopies, an exquisite array of flora and fauna, breathtaking beaches, intriguing volcanic sites, and an abundant coral population that promises you satisfying snorkelling and scuba diving experiences.
Maldives:
The natural allure of the Maldives is defined by its ivory-white sandy beaches and the mesmerising clarity of its turquoise waters. The Maldives boasts a thriving and vibrant coral population, making its beaches some of the most captivating in the world. The Maldivian experience often leans towards luxury and seclusion, as epitomised by private islands that offer exclusivity. In certain areas, the beaches come alive at night, when they sparkle with the luminescence of bioluminescent plankton.
Major Tourist Attractions in Andaman vs Maldives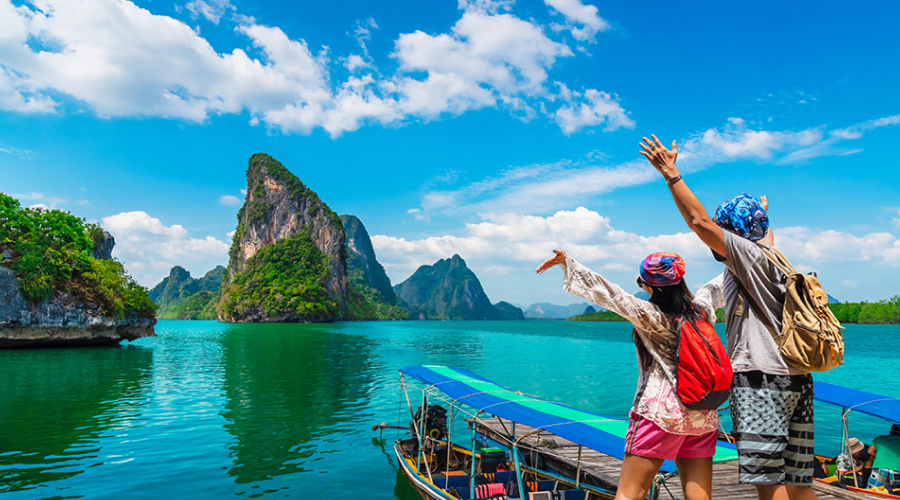 Both of these archipelagos boast a plethora of captivating sites and tourist attractions that are sure to leave you enthralled. Let's begin by exploring the key destinations to include in your Andaman itinerary:
Major Tourist Spots in Andaman
Cellular Jail, Port Blair: Serving as a solemn reminder of India's freedom struggle and independence movement, Cellular Jail has been transformed into a museum and memorial. Visitors can attend a sound and light show that narrates the harsh realities faced by freedom fighters at the hands of colonialists.
Radhanagar Beach, Havelock Island: Recognised for its unparalleled beauty and cleanliness, Radhanagar Beach has earned the distinction of being ranked as the number one beach in Asia and the seventh in the world. Witnessing a sunrise or sunset on this beach offers an immaculate experience.
The Mahatma Gandhi Marine National Park: This enchanting destination is a favourite spot for snorkelling and scuba diving. It houses a treasure trove of healthy coral populations and an array of fascinating marine life, including jellyfish, sea horses, octopuses, pearl oysters, and vibrant marine flora.
Major Tourist Spots in Maldives:
Now, let's take a quick glimpse at the prominent tourist places in Maldives:
The Capital City, Male: The picturesque capital city of Maldives is home to ancient mosques, vibrant architecture, Malé's National Museum, and prominent sites for engaging in diving, snorkelling, and other sports activities.
Maafushi Island: Renowned as the most famous island in Maldives, Maafushi is celebrated for its pristine white beaches, turquoise waters, and enchanting coral reefs. Notably, it offers more budget-friendly options compared to other islands while providing superior accommodation choices.
Banana Reef: One of the oldest reefs in Maldives, Banana Reef is a vibrant ecosystem teeming with kaleidoscopic coral reefs, majestic cliffs, and beautiful caves. Inhabited by groupers, barracudas, and sharks, this location attracts divers from around the world. Its calm currents and excellent visibility make it suitable for both beginners and seasoned divers.
Cuisines: Andaman vs Maldives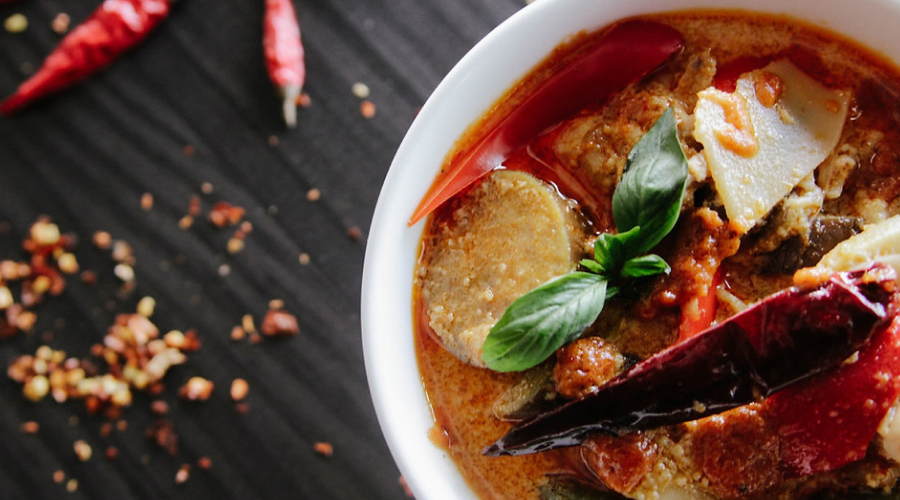 Andamanese Cuisine:
The Andamanese cuisine is a delightful fusion of flavours, bringing together enticing dishes from various parts of India, Indo-Chinese influences, and even some continental fare. However, what truly makes Andaman a haven for food enthusiasts is its emphasis on seafood. Seafood preparations take centre stage, while fruits also play a significant role in the menu. Among the crowd-pleasing dishes, curried prawns stand out, showcasing the freshest catch from the Bay of Bengal.
Maldivian Cuisine:
The Maldivian cuisine draws inspiration from South Indian and Sri Lankan culinary traditions, characterised by generous use of spices, curry, and coconut. While resorts largely cater to a global audience, reflecting diverse palates, the traditional essence remains intact. Maldivian dishes often present a harmonious blend of local ingredients and global influences. From Mediterranean to Pan Asian cuisines, along with a plethora of grilled delights, you'll find a rich variety in most resorts.
Navigating Visa Requirements: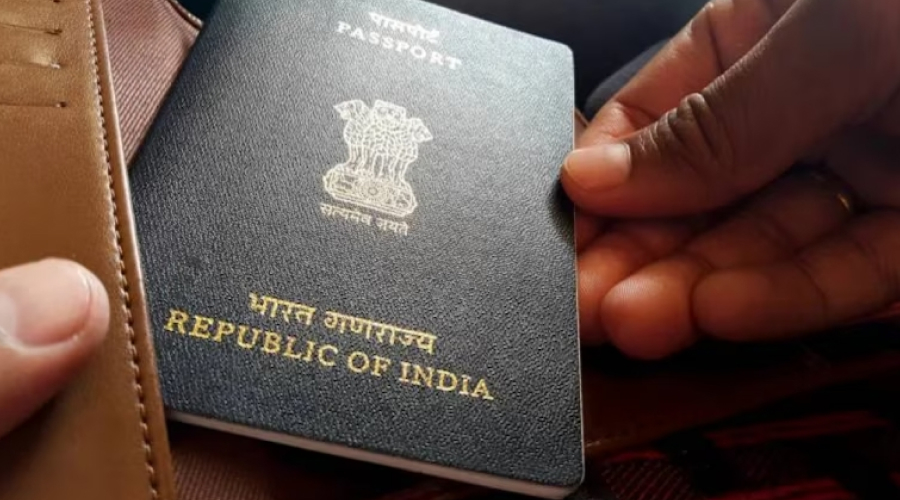 Andaman Islands: For Indian citizens, a special permit or visa isn't required to visit the Andaman Islands. Valid forms of identification such as an Aadhaar card, driver's licence, or Voter ID card are sufficient. However, foreign visitors must obtain an Indian visa along with all requisite documentation before travelling to the Andaman Islands.
Maldives: When considering a trip to the Maldives, ensure that you have the necessary documents in place. These include return plane tickets, accommodation details, and a passport with a minimum of 3 blank pages, valid for at least 6 months. No visa is required for entry; instead, a 30-day visa is granted upon arrival, making Maldives a remarkably welcoming international destination.
Accommodation Expenses: Andaman vs Maldives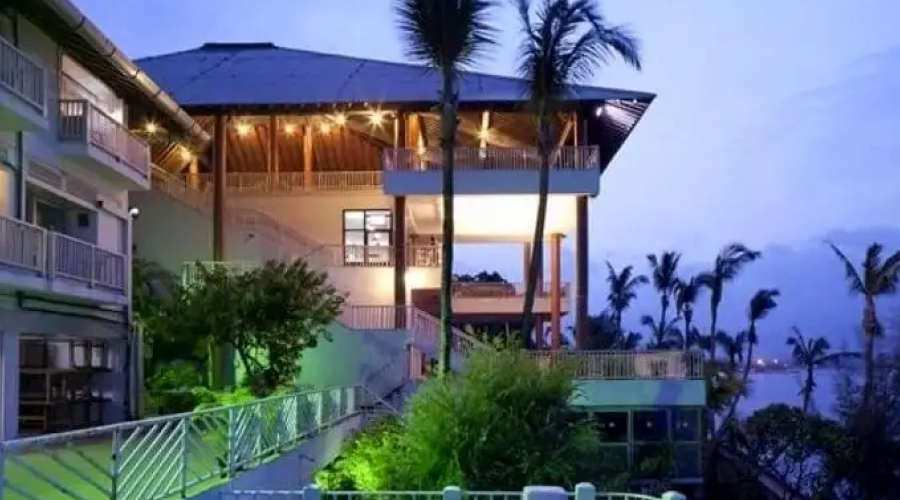 Let's delve into the accommodation expenses for these two tropical destinations.
Maldives:
Renowned for its premier luxury offerings, the Maldives boasts all-inclusive resorts and private beaches. Consequently, nightly stay costs can range from 800 USD to 1500 USD, depending on factors such as room type, amenities, and service levels. However, alternative affordable options, including budget hotels, are available to align with diverse budgets, with prices ranging from 60 USD to 100 USD per night.
Andaman Islands:
Andaman Island caters to both high budget and mid-budget range, featuring an array of accommodations, from luxury resorts to budget-friendly hotels and eco huts. This diversity attracts a wide spectrum of tourists, from backpackers to luxury seekers. Leading resorts like Taj Exotica, Barefoot, and TSG Aura Resort are concentrated in Havelock, Port Blair, and Neil Island. Nightly prices span from INR 7000/- to INR 20,000/-. Furthermore, Andaman offers a variety of premium and budget hotels tailored to your preferences and needs. Hotel prices in Andaman can range from 2500/- to 6500/- per night.
Please note that the costs of accommodations in both Andaman and Maldives are subject to fluctuation based on the time of year, demand, and tourist influx.
Nightlife and Shopping
Maldives:
The Maldives offers a selection of beaches, bars, and nightclubs scattered across its various atolls. However, it's important to note that enjoying these amenities often requires island hopping, which might not be the most convenient option for many tourists. To experience the "nightlife" in Maldives, the best approach is to stay within your resort, where you can access the resort's own bar or club.
When it comes to shopping, Maldives isn't particularly famed as a shopper's haven. Most visitors come to Maldives for secluded luxury getaways. Nonetheless, you can still discover local souvenirs and arts and crafts crafted by the Maldivian people.
Andaman Islands:
Similarly, the Andaman Islands aren't known for their vibrant nightlife. Nevertheless, there are clubs and bars where you can indulge in nocturnal escapades by sipping cocktails and dancing the night away. For those interested in shopping, Andaman offers options like Aberdeen Bazaar, Sagarika, Electric Plaza, Shell-Based Products Markets, and MG Road. Here, you can find a wide range of commodities, from household items to fashionable apparel, as well as items such as hats, bags, accessories, and footwear, along with souvenirs.
Exploration Time: Maldives vs Andaman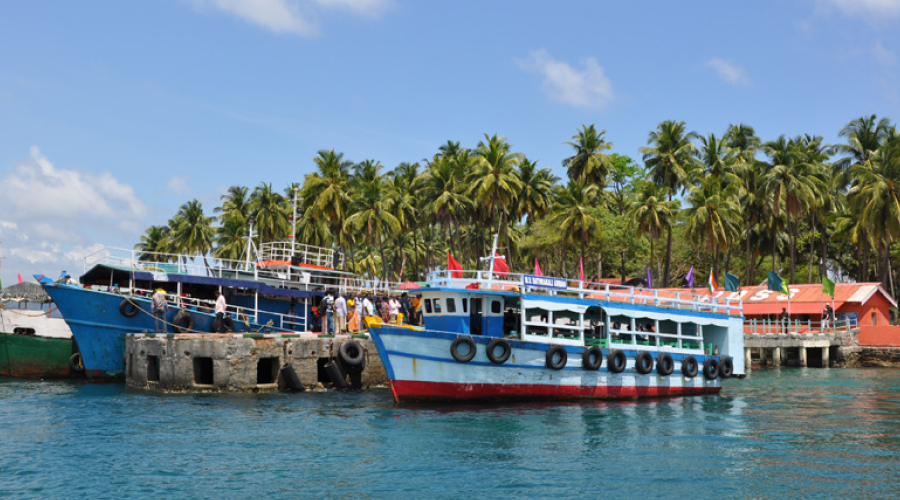 Maldives
For those aiming to explore all the major tourist islands in the Maldives, a minimum duration of 7 to 10 days is recommended. This time frame allows ample opportunity to bask in the Maldivian sun, discover its pristine beaches, unwind, and partake in a wide array of water sports, including diving and snorkelling.
Andaman Islands:
Conversely, to thoroughly cover key locations like Port Blair, Havelock, and Neil Island, a comfortable span of 5 to 7 days is advised. This period affords sufficient time to visit historical landmarks, enjoy the beaches, and engage in thrilling water sports such as skiing, paragliding, and snorkelling.
Getting Around in Maldives and Andaman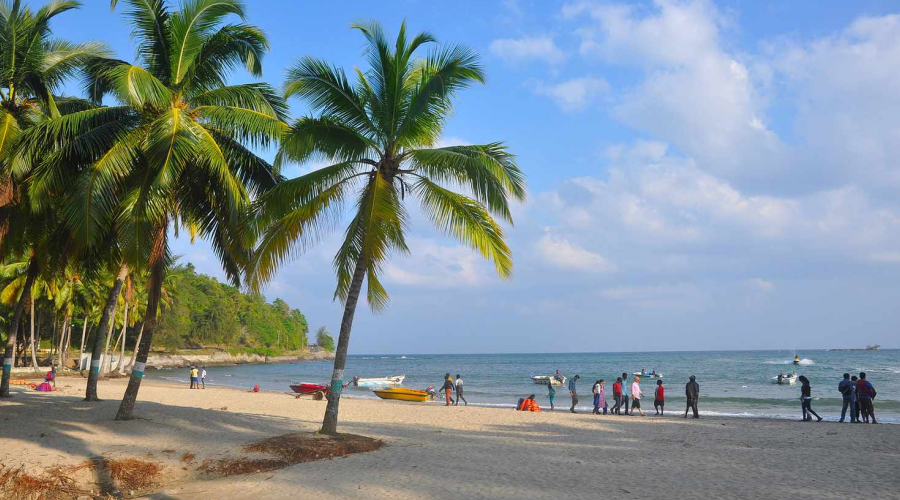 Maldives:
Upon arriving in the Maldives, there are two main options for island hopping. Firstly, you can utilise TransMaldivian Airlines, which operates numerous daily flights connecting all the atolls. It's advisable to directly book your tickets with them. Alternatively, ferries are available for inter-island travel. Please note that the costs for seaplanes and ferries can vary significantly depending on the specific atoll.
Andaman Islands:
For those travelling to the Andaman Islands, you can fly from major Indian cities like Delhi, Mumbai, Chennai, and Kolkata to Port Blair's Veer Savarkar Airport. Once arrived in Port Blair, ferries and vessels provide internal transfers between the islands. Booking tickets online is recommended. Within the islands, auto rickshaws and taxis are available for convenient travel between different locations.
Before concluding the guide, here is a table for a quick look at the differences between the Maldives and Andaman Islands for an easier comparison:
| | | |
| --- | --- | --- |
| Key Differences | The Maldives | Andaman Islands |
| Location | An archipelago in the Indian Ocean. | A group of islands in the Bay of Bengal. |
| Climate | Tropical climate; average temperatures 23°C – 28°C. | Slightly cooler climate; average temperatures 23°C – 30°C. |
| Natural Landscape | White-sand beaches, clear blue waters. | Lush rainforests, hills, alongside beaches. |
| Activities | Popular for snorkelling, diving. | Offers hiking, trekking, diving, water sports, and more! |
| Travel Cost | Generally more expensive. | Comparatively more budget-friendly. |
| Culture | Blend of South Asian, Middle Eastern, and African influences. | A mix of South Asian and indigenous tribal cultures. |
| Language | Dhivehi is the official language. English is widely spoken. | A variety of languages are spoken, including Bengali, Hindi, Tamil and English. |
| Currency | Maldivian Rufiyaa (MVR) | Indian Rupee (INR) |
| Visa Required | 30-day visa on arrival for most nationalities. (including Indian) | Indian citizens don't require a special permit. Foreigners need an Indian visa. |
| Cuisines | Reflects South Indian and Sri Lankan flavours, with heavy use of spices. | Eclectic mix of Indian, Chinese, and Continental cuisines, abundant seafood. |
| Accommodation Expense | More expensive, with luxury resorts. | Range of accommodations from budget to luxury, relatively budget-friendly. |
| Best Time to Visit | November to April | October to May for pleasant weather; avoid monsoons (July to September). |
Wrap Up:
While both Andaman and Maldives share the allure of tropical islands, they offer distinct experiences to different travellers. If your desire is to revel in an opulent international vacation and you're prepared for indulgence, Maldives beckons with its lavish offerings. This destination, accessible year-round, caters to those seeking pure secluded luxury.
On the contrary, Andaman Islands stand as an excellent choice for all types of tourists. It presents a spectrum of options, from luxurious to budget-friendly, embracing a laid-back ambiance that's rustic and harmonious with the natural world.
Frequently Asked Questions
Q1. Which is better, Maldives or Andaman?
Choosing between the Maldives and Andaman depends on your budget, preferences and priorities. The Maldives is known for its luxurious overwater bungalows, pristine beaches, and exceptional underwater experiences. It's ideal for those seeking a high-end, indulgent, and secluded getaway. On the other hand, Andaman offers a mix of lush landscapes, diverse marine life, and rich cultural experiences. It's a great choice for nature lovers and those interested in exploring indigenous cultures and visiting historical sites.
Q2. Is Andaman more expensive than Maldives?
The Maldives tends to be more expensive overall, especially when considering high-end resorts. Andaman can offer more budget-friendly options, but luxury experiences are also available.
Q3. Is the Maldives near Andaman?
The Maldives is not near Andaman geographically; they are separate island groups in the Indian Ocean.
Q4. Can we go to the Maldives without a passport?
A passport is required to travel to the Maldives. It's a common misconception that you can travel to the Maldives without a passport. All international travellers need a valid passport to enter the country.
Q5. Which is the best month to visit Maldives?
The best time to visit the Maldives is during the dry season, which typically runs from November to April. The weather is pleasant, and the sea is calm, making it ideal for water activities and beach relaxation.
Q6. How much money is required to visit the Andaman from India?
The cost of a trip to the Andaman from India can vary based on factors like travel dates, accommodation choices, and activities. On average, a mid-range budget for a week-long trip could range from INR 35,000/- to INR 1 lakh per person.
Q7. How many days is enough for Andaman and Maldives?
For an all encompassing experience of the Andaman, a stay of around 5 to 7 days is recommended. In the case of the Maldives, a week-long trip is a common choice, allowing plenty of time to enjoy the beaches, water activities, and relaxation.
Q8. Is Maldives visa free for Indians?
Yes, Indian citizens are granted a free 30-day tourist visa on arrival in the Maldives.
Q9. Can I go to the Maldives on a budget of INR 1 lakh/- ?
Yes, it's possible to plan a budget-friendly trip to the Maldives with around INR 1 lakh. However, achieving this budget would require careful planning, choosing for cheap accommodation options, and managing expenses during your stay.
Q10. Which is a better honeymoon destination between Andaman and Maldives?
Both Andaman and Maldives offer unique experiences for honeymooners. The Maldives is often associated with luxury and romance, while Andaman provides a mix of natural beauty and cultural exploration. The choice depends on whether you prefer a more luxurious, beach-focused experience (Maldives) or a combination of adventure and relaxation (Andaman).
Q11. Is Indian Rupee valid in Maldives?
While the Maldivian Rufiyaa (MVR) is the official currency of the Maldives, many tourist-centric areas and resorts do accept US Dollars. SO, it is best to convert your Indian currency on arrival in Maldives.
Q12. Which are the best months to visit Andaman?
The months from October to April are the best months to plan your visit to Andaman Island.